One of the major topics at this year's Consumer Electronics Show in Las Vegas was Apple and Intel's Thunderbolt technology. Many companies unveiled exciting new Thunderbolt products for release later this year – here are a few that caught our attention.
GUS II External Thunderbolt GPU and Dock
We previously reported that Village Tronic was developing a version of their ViDock PCI Express GPU expansion chassis that works with Apple's Thunderbolt technology. The company showed of their GUS II External Thunderbolt GPU  chasses at CES this year, which not only allows you to hook up an external graphics card – it also works as a complete docking hub for Thunderbolt devices!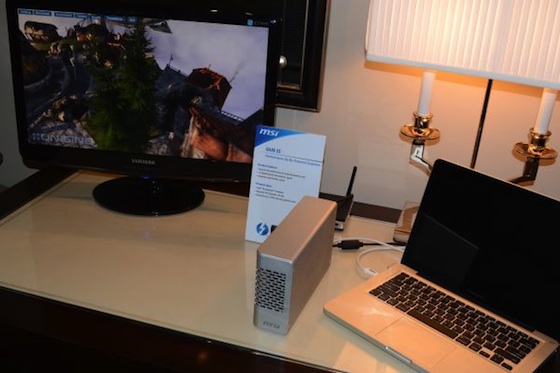 The unit they showed off last week was only a demonstration model, but it showed off some exciting potential. Their demo model only functioned under Windows due to the card they used in the unit, but Mac support is on the way, and manufacturers should easily be able to develop Mac drivers for their GPUs.
There is no release date or pricing as yet, but we'll be keeping our eye on this and letting you know of any future news that becomes available.
Hitachi G-RAID with Thunderbolt
Hitachi showed off a cool new Thunderbolt RAID box under their G-Technology brand. The G-Raid with Thunderbolt featured at the show was an 8TB model, and as expected, supports daisy-chaining to hoop up additional Thunderbolt devices.
The G-RAID with Thunderbolt comes in 4TB, 6TB and 8TB capacities priced at $799, $999 and $1199, respectively.  It packs in two 3.5″ drives at 7200RPM each, and is able to reach speeds of up to 300MB/S. No firm release date was given, but it is expected to launch in the near future.
Western Digital My Book Thunderbolt DUO
WD provided a glimpse at their My Book Thunderbolt Duo drives, although they have yet to be formally announced. There will be two models available with 4 or 6 terabytes of storage, and each device holds two 3.5-inch disks.
These drives have been benchmarked at between 250MBps and 280MBps, with speeds of up to 900MBps when multiple units were chained together, and will exclusively support the Mac when it is launched. Final details on these drives are expected later this month.
Seagate Thunderbolt GoFlex Adapter
Seagate announced the GoFlex Thunderbolt Adapter, which will bring Thunderbolt connectivity to their existing GoFlex portable and desktop hard drives. The portable version does not support daisy chaining, but the desktop version can be daisy-chained with other devices.
The adapter works with Seagate's GoFlex Desk external drives, as well as their GoFlex Pro portable drives. The adapters are expected to cost $99 for the portable version, or $189 for the desktop version, and should be available some time in the first quarter of this year.
Belkin Thunderbolt Express Dock
Belkin's Thunderbolt Express Dock slipped out earlier this year, but Belkin seems to have significantly changed the design since then, as this looks very different from previous images. This dock is ultra-slim, and even includes an HDMI slot, which the first design did not.
The dock packs three USB ports, a Thunderbolt passthrough for daisy-chaining, Ethernet, 3.5mm audio, and Firewire, and is expected to be released sometime around September of this year for $299.
Elgato Thunderbolt SSD
The Elgato Thunderbolt SSD is a bit different from other Thunderbolt products spotted at the convention. It's an external SSD powered by the Thunderbolt bus, and is expected to go on sale this February. They can reportedly reach speeds of up to 300MB/s. A 120GB version will be available for $429.94, while a 240GB version will be available for $699.95.
OCZ LightFoot Thunderbolt External SSD
OCZ has also unveiled an external Thunderbolt SSD called the LightFoot. OCZ's offerings come in more sizes than Elgato's offering, and will be available in 128GB, 256GM, 512GB and 1TB capacities. They can also reach blistering speeds of up to 750MB/s.
No details have been released on pricing or availability, but we'll be sure to let you know when we hear more.
LaCie Thunderbolt eSata Hub
Not to be left out of the Thunderbolt fun, LaCie displayed their own Thunderbolt eSATA hub at CES, featuring connections for two e-Sata drives with a single Thunderbolt port, as well as a second Thunderbolt port for daisy chaining. The dock supports speeds of up to 6 Gbps.
LaCie's hub only supports eSATA, however, which separates it from devices like Belkin's Thunderbolt Express Dock, which features a much wider assortment of ports. The Thunderbolt eSATA hub is expected to be released in the first quarter of 2012, but no details have yet been released on pricing.
IoSafe Rugged Portable Thunderbolt
Now this one is just plain cool – IoSafe, makers of disaster-proof drives, unveiled their Rugged Portable Thunderbolt drive, which can withstand incredible voltage – they even tested it by zapping it with a Tesla coil!
Besides its ability to withstand extreme electric shock, and even an EMP blast, the drive also features dual Thunderbolt ports for daisy-chaining, and will be available in the second quarter of this year. The 500GB version is expected to come in at around $500, which includes IoSafe's one-year data recovery plan that covers up to $5,000 worth of damage.
Wrapping it Up
While there were plenty of incredibly cool Thunderbolt devices to be seen at CES, many of them are still priced out of reach of most consumers, with few exceptions. Perhaps once Thunderbolt support comes to PCs with Intel's Ivy Bridge chipsets later this year, adoption will begin to increase and prices will begin to come down.
For now, however, Thunderbolt remains as one of those cool toys that only businesses and rich kids get to play with.