A new report concerning a possible Mac Pro refresh has surfaced today, using evidence taken from a now-removed Apple Online Store image that showed a Mac Pro pictured next to one of the new Thunderbolt RAID devices.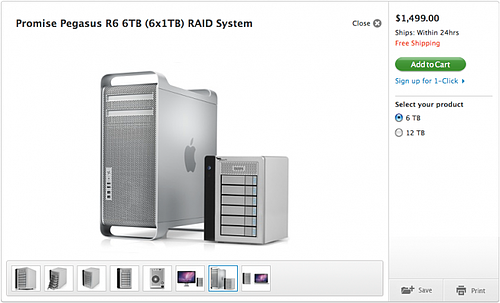 The Mac Pro, of course, does not yet support Thunderbolt, and so would not work with the new Promise RAID devices in the Apple Store – but could this indicate that a refresh of the Mac Pro is coming soon? A refreshed Mac Pro would be expected to include Thunderbolt support, as well as new Sandy Bridge processors to keep it up to date with the rest of the Mac lineup.
It may just be an error on the part of the graphics/design department, but with the many recent rumors surrounding a possible Mac Pro refresh (perhaps with up to 16 cores), it's difficult for this not to add some fuel to the fire in some respect.