VMWare has just released the latest version of their Fusion virtual machine software. VMWare Fusion 5 has been optimized to run on OS X Mountain Lion, offers full Windows 8 compatibility, and includes 70 new features.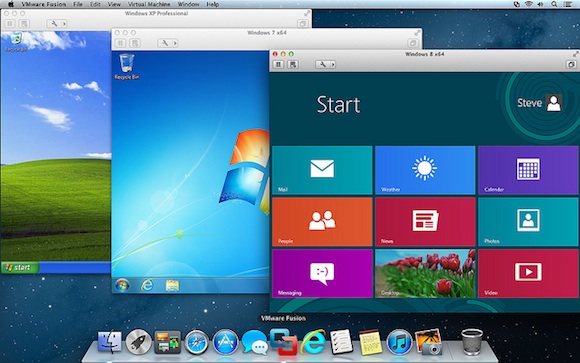 From the press release:
VMware Fusion 5 has been designed to work on Mountain Lion and integrate to some of its key features. You can now get VMware Fusion updates directly in Mountain Lion's notification center or search for your favorite Windows programs in Launchpad. And if you have an Apple TV, you can even use "AirPlay Mirroring" to view your Windows environment on your HDTV.
Aside from the new features, the update also includes a number of performance enhancements, including better power management, and faster 3D graphics. VMWare Fusion is available in both standard and professional versions for $49.99 and $99.99, respectively, and upgrade pricing is available for owners of previous versions. Users who purchased Fusion on or after July 25th can upgrade for free!
This looks to be a very solid release, and should be on the list of anyone who regularly uses the software. For more information, or to purchase, head on over to the VMWare Fusion website!
A summary of the major new features can be found below:
New features include:

Designed for Mountain Lion – Run Windows on Mountain Lion and search Windows programs in Launchpad, use "AirPlay Mirroring" to stream Mac and Windows applications on an HDTV and get VMware Fusion notifications in Mountain Lion's notification center.
Windows 8 Optimization –VMware Fusion 5 supports Windows 8 standard, pro and enterprise editions so consumers can optimize the new Windows 8 "Metro" environment directly on a Mac.
Enhanced Mac Support – Support for the latest Mac technologies include compatibility with Mountain Lion, retina display optimization, USB 3 connectivity, and improved support for large memory Macs.
Next Generation Performance –Performance enhancements include up to 40% faster general performance speeds compared to the previous version of the product, improved power management for longer battery life and faster 3D graphics.
Additional Functionalities – New, powerful ways to experience Windows on a Mac are available through an updated virtual machine library that enables seamless transitions between multiple operating systems, one click snapshots with improved graphical appearance, a brand new graphics driver for Linux 3D desktops, and a new embedded learning center for immediate support.

VMware Fusion 5 Professional 
VMware Fusion 5 Professional includes all the features of Fusion 5 plus new capabilities that will improve the way professionals deliver business applications to Mac users. Key benefits include:

Open the Doors to Macs –Whether business applications run on Windows XP, Windows 7, Windows 8 or one of more than 200 other operating systems, VMware Fusion 5 is designed to ensure maximum compatibility with the applications users need.
Create Restricted Virtual Machines –Create an encrypted corporate image that meets the needs of employees and enables productivity from their first power-on. To avoid tampering of the corporate image, restrictions can prevent users from changing virtual machine settings or attaching USB devices to Windows.
Easy Deployment Across Multiple Platforms – VMware Fusion 5 Professional includes a commercial license of VMware Player™ 5 to deploy and run restricted virtual machines on Macs, Windows and Linux systems. So regardless of the underlying platform, VMware Fusion 5 Professional gives users the business applications they need.
Reduce Support Costs – Reduce support costs by directing end-users to customized Web resources directly from VMware Fusion 5 Professional's Help menu.
Easy Management – VMware Fusion 5 Professional is a full perpetual license which activates both VMware Fusion 5 Professional and VMware Player 5.