Who wouldn't love to have an MFi-certified Lightning cable handy whenever you need it? The lightweight Cord2Go keeps everything ready for you in a slim-compact package, ready to go.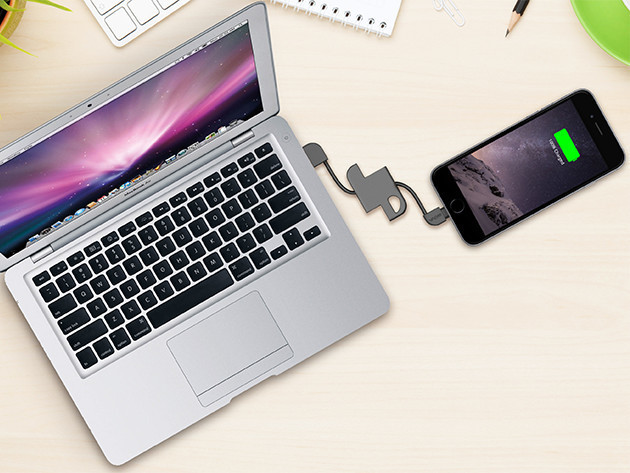 Cord2Go – Pop It & Lock It: A Cable-Storage & Charger So Slim You Can Take It Anywhere – $9.99
Sync data and charge devices when you're on the go without the normal tangle of cables and cords. The slim, lightweight Cord2Go—with its handy carabiner—keeps the cables in line for you. Just unplug the Lightning and USB connectors from their slots (and lock them back in place when you're done), and you'll never have to ask around for a charger again.
Travels anywhere thanks to its compact size & minuscule weight
Supports Apple's firmware updates w/ MFi-certified cable
Diminishes cable tangles w/ streamlined organization
Charges your smart device rapidly
Conveniently attaches to anything w/ the carabiner
Supports charging devices w/ car chargers, multi-port USB chargers, wall chargers & more
Quickly syncs data when connected to a computer
To purchase with a micro USB cord, see drop-down above!
COMPATIBILITY
Compatible with all iPhones & iPads w/ Lightning connectors
SPECS
Dimensions: 1.9"H x 1.1"L x 0.2"W
Weight: less than 1 oz
SHIPPING
Free shipping
Ships to: Continental US
Includes:
Skiva Cord2Go Lightning Keychain (black)
Expected Delivery: Oct 25 – Nov 1
TERMS
1-Yr Manufacturer's Warranty
All sales final
For Cord2Go w/ Lightning keychain. To purchase w/ micro USB keychain, see drop-down.
Cord2Go – Pop It & Lock It: A Cable-Storage & Charger So Slim You Can Take It Anywhere – $9.99