Avoid the tedious task of entering frequently used text on your Mac by using Typinator Typing Assistant!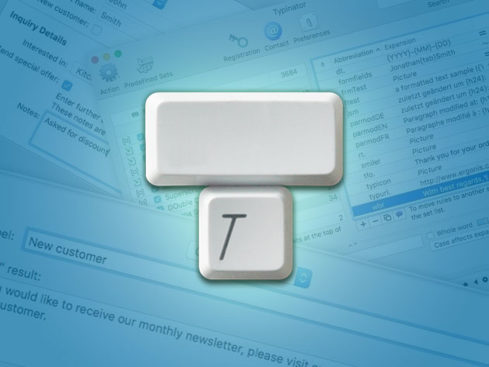 Typinator Typing Assistant: Everyone From Copywriters to Web Developers Should Use This Typing Tool – Just $15.99 for a single license, $23.99 for a family license
DESCRIPTION
Have you experienced the tedium and frustration of having to repeatedly type your name, email address, home page URL, or other frequently used words and phrases? Do you often need to add images into documents? Typinator boosts your productivity by automating the process of inserting frequently used text and graphics and auto-correcting errors. With thousands of predefined corrections for common typos and misspelled words for US and British English, German, and French, Typinator is much more than a basic typing assistant.
'Typinator is one of those apps that I talk to my non-tech friends. All of us at MacUpdate use it without fail for coding, content editing, technical support, and internal and external communications.' 4.9/5 Stars, MacUpdate
Set up a list of often used email phrases, address, & other boilerplates
Insert the current date & time in a variety of formats w/ a few keystrokes
Auto-correct commonly misspelled words across all the apps you use
Insert pictures, such as signatures, smilies, & logos
Create standard customer service responses
Build templates for code fragments & blocks
Implement documentation standards
Use the built-in HTML snippets to simplify & speed up editing of web pages
SPECS
Details & Requirements
Version 7.2
Languages: US and British English, German, French
Minor updates included
Compatibility
Terms
All sales final
Instant digital redemption
LICENSE
Redemption: must redeem within 30 days of purchase
Length of access: lifetime
Restrictions: for use on 2 computers
Typinator Typing Assistant: Everyone From Copywriters to Web Developers Should Use This Typing Tool – Just $15.99 for a single license, $23.99 for a family license