Apple is launching medical clinics to service company employees and their families. The network of clinics will offer the "world's best healthcare," according to the acwellness.com website, first spotted by CNBC. The website reveals the service will launch in the spring of this year.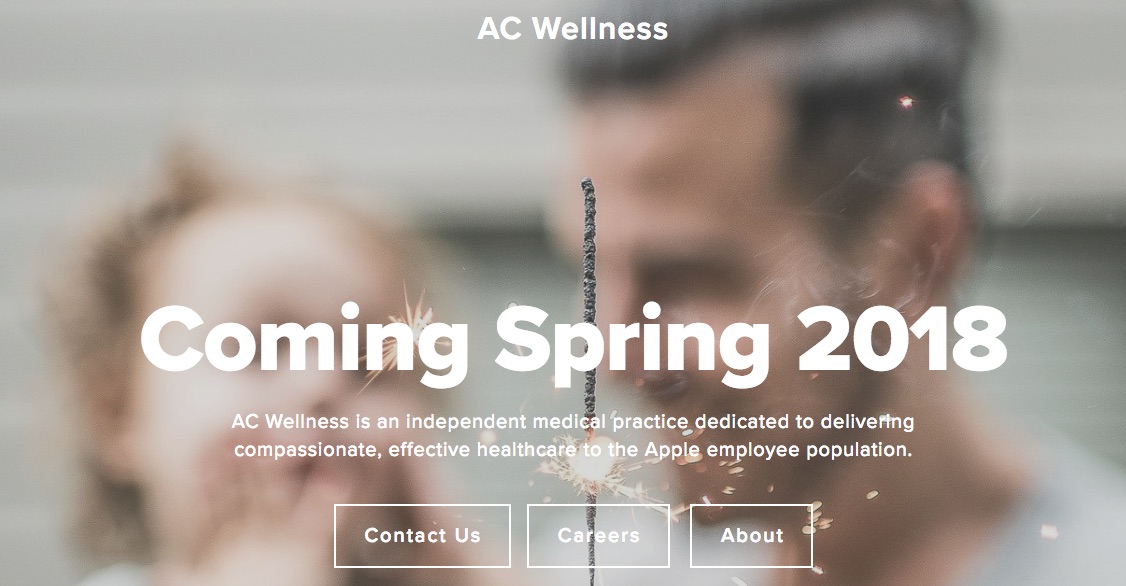 AC Wellness Network believes that having trusting, accessible relationships with our patients, enabled by technology, promotes high-quality care and a unique patient experience.

This is fostered by an environment of continuous learning and teamwork, which in turn allows us to work with our patients to achieve exceptional health outcomes. The centers offer a unique concierge-like healthcare experience for employees and their dependents. Candidates must have an appreciation for the patient experience and passion for wellness and population health — integrating best clinical practices and technology in a manner that drives patient engagement.
The CNBC report says a LinkedIn search shows work on the clinics has bene underway for at least five months.
A LinkedIn search reveals that at least former Stanford Health Care employees have been affiliated with AC Wellness for at least five months, although there's no mention of Apple on the people's profiles. Several of the job listings on Apple's site as of February 27, however, describe AC Wellness as a "subsidiary of Apple, Inc."
The careers section of the website shows Apple is hiring for various roles:
Health Partner
Health Partner (Behavioral Health)
Clinical Exercise Coach
Primary Care Physician
Acute Care Physician
Care Navigator
Phlebotomist
Medical Assistant
Nurse Coordinator
Nurse Practitioner
CNBC notes preventative measures, such as those that AC Wellness will apparently offer, makes sense.
It's far cheaper to prevent disease than treat people who are already sick. Health problems result in 69 million workers reporting missed days each year, reducing economic output by $260 billion per year, according to the U.S. Centers for Disease Control and Prevention.

Aside from the typical roles involved with a primary care clinic, Apple is also looking to hire "designers" who will help implement a program focused on preventing disease and promoting healthy behavior.
The report indicates Apple will also use the clinics to test health offerings that could be offered to consumers.
Apple joins a growing group of companies who are looking to control employees healthcare costs and improve services by providing healthcare to their employees. Last month, Amazon, Berkshire Hathaway and JPMorgan announced a partnership to create a healthcare organizations to server their employees.