The Complete UI & UX Design Master Class Bundle will teach you what you need to know to design seamless, easy-to-use websites and mobile apps!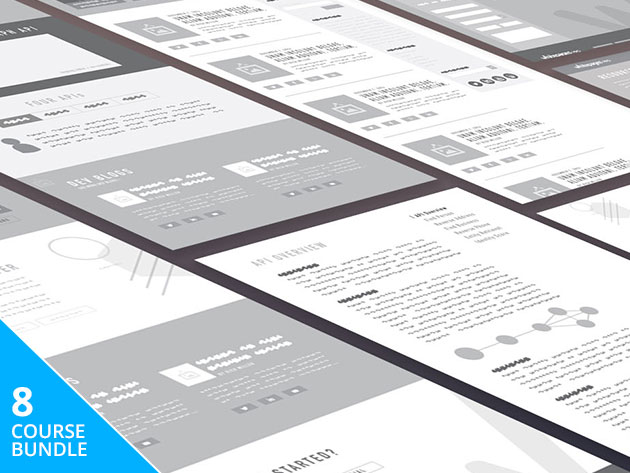 The Complete UI & UX Design Master Class Bundle: Design Seamless, Easy to Use Websites & Mobile Apps with 46 Hours of Expert Help – Just $39!
Design Mobile App Icons Using Photoshop & Illustrator
Use Photoshop & Illustrator to Create & Export Clean, Ready-to-Use App Icons
You're familiar with the clean and elegant launcher app icons on Android and iOS smartphones but what do you know about designing them? In this course, you'll learn to use your existing design knowledge to go from sketching to exporting clean final app icon projects. You'll cover all the do's and don'ts of App Icon design and learn all you need to know about sizes and specifications so you can start uploading them to digital stores.
Access 5 chapters & 2 hours of content 24/7
Design an elegant iOS Mail App icon
Learn the technical problems newbies face when they try to start designing iOS App Icons
Design two icons for a Hydration App & learn the process behind it
Generate all the different sizes for Android Apps & which size you are going to submit to the Google App Store
Web Design: Workflow of Modern Web Design
Here's Your Guide for Creating Professional, Responsive Websites
Designing a responsive website might sound like a daunting task, but it's actually quite manageable once you nail down the workflow. From the resource gathering stage to building prototypes, this course guides you through the entire process and gets you up and running with core tools and frameworks, including Adobe Photoshop, Balsamiq Mockups, and Invision App.
Access 13 chapters & 7.5 hours of content 24/7
Walk through the modern process of creating a responsive website
Learn how to organize your web project & gather information from clients
Discover how to design for desktop, tablet & mobile screens
Familiarize yourself w/ Adobe Photoshop, Balsamiq Mockups & other tools
Freelancing Career Guide for Designers & Developers
Set Yourself Up With a Solid Freelancing Action Plan
Freelancing is an exciting and liberating way to earn income, but it can be intimidating for those first starting out. Start your freelance journey off on the right foot and plan for success by learning how to price your services, interface with clients, craft professional proposals and more.
Access 5 chapters & 4.5 hours of content 24/7
Set yourself apart w/ tips on professional behavior & presenting your work
Learn how to properly price your services, manage time & accept projects
Dive into the job-hunting process & how to identify ideal clients
Explore freelance job websites & gig opportunities
Discover apps for invoicing, productivity & more
Typography for Designers & Developers
Take Your Designs Further with Typography Tips & Tricks
Smart use of typography can have a dramatic impact on your designs. Ideal for designers and developers alike, this course takes you through the tools and techniques you can use to create more compelling content online—from padding to margins and everything in between.
Access 14 chapters & 8.5 hours of content 24/7
Discover how to design elegant apps via meaningful font pairing
Use white space more effectively w/ Vertical Rhythm & Modular Grid
Learn how to improve your designs w/ Modular Grid & Baseline Grid
Dive into iOS typography & designing for various screen sizes
Photoshop, InDesign & Illustrator 101
Get an Insider's Look at Today's Design Essentials
It takes more than an eye for design to make it in the creative industry. Featuring instruction on Photoshop, InDesign, and Illustrator, as well as tutorials for setting up your workspace, applying for jobs, and showcasing your work, this course offers a complete inside look at getting your foot in the door as a creative professional.
Access 8 chapters & 2 hours of content 24/7
Discover what it takes to be a designer & expected costs and income
Learn about different design tools, including Adobe apps, tablets & more
Explore essential skills like composition & layout and digital image theory
Learn how to get recognized w/ crowdsourcing & contests
UX Design for Beginners
How to Design with the User in Mind
Getting an app or website up and running is challenging enough, but making that same project easy to use is even trickier. Made for beginners, this course takes you through the essential principles and concepts behind creating a simple and intuitive user experience (UX). Follow along the latest practical examples and screenshots of UX issues and learn how to solve them when building your own projects as a UX designer.
Access 6 chapters & 5 hours of content 24/7
Explore the different roles of UX designers & what it takes to become one
Learn about Human Centered Design (HCD) & core UX principles
Discover the barriers to user entry & how to remove them
UI/UX & Web Design Using Adobe XD
Build a Better User Experience in Less Than 5 Hours
Aimed at beginners, this Adobe XD training takes you through the building blocks behind creating a responsive, user-friendly website. From the initial phases of building a design brief to exploring pre-made UI kits that speed up your workflow, you'll come out of this course armed with the skills to design a website and mobile app and ensure they're a dream to use.
Access 42 lectures & 5 hours of content 24/7
Explore the dos and don'ts of choosing fonts
Work through creating a real-world website interface & mobile app
Learn how to streamline your work w/ pre-made UI kits
Discover professional workflow tricks & shortcuts
UI Design with Photoshop: From Beginner to Expert
Get Up & Running with This UI Designer Essential
Take the first step toward becoming a UI designer by mastering one of the job's fundamental tools: Photoshop. This course takes you through the basic tools of Photoshop specific to UI Design. You'll apply your knowledge to landing page design, web or mobile app design, and understand the concepts and techniques essential to creating the ideal visual experience for users online.
Access 12 chapters & 11.5 hours of content 24/7
Learn the basic settings, shortcuts, tools & extensions UI designers use in Photoshop
Dive into the essentials of light & shadow concepts in UI design
Discover how to use patterns & gradients to improve your designs
Follow along designing a mobile app in Photoshop
Solve the common problems faced by UI designers
Terms
Unredeemed licenses can be returned for store credit within 15 days of purchase. Once your license is redeemed, all sales are final.
The Complete UI & UX Design Master Class Bundle: Design Seamless, Easy to Use Websites & Mobile Apps with 46 Hours of Expert Help – Just $39!