The 2019 Award-Winning Speed Reading Bundle will help you vastly improve your reading speed and comprehension.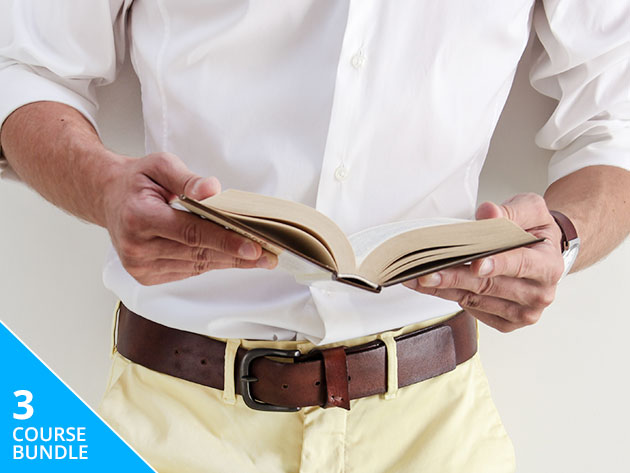 The 2019 Award-Winning Speed Reading Bundle: Lifetime Subscription – These Top Programs Will Vastly Improve Your Reading Speed & Comprehension – Just $19
7 Speed Reading EX 2019: Lifetime Subscription
Read Faster, Comprehend Quicker, & Remember More with The World's #1 Speed Reading Software
Reading efficiency has been linked to greater success in school and work, making 7 Speed Reading EX an excellent investment in your future. A TopTenReviews Gold Winner, 7 Speed Reading EX is simply the best software on the web when it comes to helping you read faster, comprehend more, and excel in your career. This software focuses on training and aims to triple your reading speed through a variety of interactive mediums, including learning strategies, software activities, video training, and more. As a result, you'll fly through books, documents, web pages, and more, all while maintaining 100% comprehension — while opening doors to career opportunities you never thought possible.
Read up to 3.471 times faster, w/ full comprehension
Upload any article, webpage, text file, or PDF into your library
Remove bad reading habits w/ exercises designed to improve comprehension
Receive guidance from world-leading experts w/ included video tutorials
Access 20,477 eBooks free, right on the 7 Speed Reading EX platform
Sync your profile w/ all of your computers through the Cloud so you can access your library anywhere
Use progress reports to track your improvement over time
Learn how to take care of your eyes through eye & body health training videos
Reviews
TopTenReviews Gold and Excellence Awards Winner
PC World: "The most comprehensive speed reading system anywhere – with 7 learning strategies, 15 software activities, video training, ultra-advanced tracking, and much more."
Vocab1: Lifetime Subscription
Double Your Vocabulary & Effortlessly Enhance Your Communication Skills Quickly
Studies have shown that the single best predictor for career success is a good vocabulary. Think about that for a moment before you decide your vocabulary is fine as it is. Vocab1 is the intuitive software that helps you double your vocabulary through fun and games. Using the proven science of contextual learning and expertly curated word lists, Vocab1 makes building vocabulary an effortless affair. Whether you're studying for the SAT, GRE, or GMAT, or interested in boosting your career and communication skills, Vocab1 will help you harness the English language more effectively than ever. Your future looks forward to thanking you.
Learn the right vocabulary words for your success through fun training games
Ace the GRE, SAT, GMAT, & IQ tests w/ authoritative word lists
Access a massive database of over 520 million words in context
Pick or make word lists for your specific needs
Get notifications of words, reminding you of the meaning of words you studied earlier
Track your progress graphically
Print word lists, worksheets, & flash cards based on any list
Reviews
TopTenReviews: "No matter what learning style is best for you, Vocab1 has you covered with an abundance of vocabulary activities."
Spreeder CX 2019: Lifetime License
Harness the Power of This Speed Reading Technology to Save Time & Read 3x Faster
What is RSVP (rapid serial visual presentation)? RSVP allows users to read digital content quickly by reducing eye movement and ultimately simulating a natural reading flow. Spreeder Pro is an RSVP e-reader that allows you to speed read any digital content you want. Simply upload URLs, documents or e-books, or paste text in the app, and the "e-reader" will display text at a rate that will help you get through your reading list in no time. The experts at Spreeder have spent thousands of hours fine-tuning the newest version of the software to help you read at more than three times your normal speed with greater retention and without experiencing information overload.
Make your reading experience super productive
Tune Spreeder for punctuation pauses, font, speed, background color & more for a fully customizable experience
Enable one of four reading modes: Serial, Flow, Highlight or Scroll to fit your style
Scroll through text manually to catch up when you get behind
Adjust speed, navigate text & more using keyboard shortcuts
Use offline or online
Get your own personal cloud library & add your content (book, PDFs, documents, etc.)
Use the guided training to learn speed reading tips & tricks
Reviews
Featured on LifeHacker, Wired, Slate & more!
The 2019 Award-Winning Speed Reading Bundle: Lifetime Subscription – These Top Programs Will Vastly Improve Your Reading Speed & Comprehension – Just $19