The Pixelmator Team – developers of popular photo editing apps for both macOS and iOS devices – have announced their latest app, AI-powered Pixelmator Photo, which will hit iPads on April 9th.
The app is now available for pre-order from the App Store. Users that pre-order the app for their iPad will score a 20% discount off the usual price. The pre-order price is $3.99.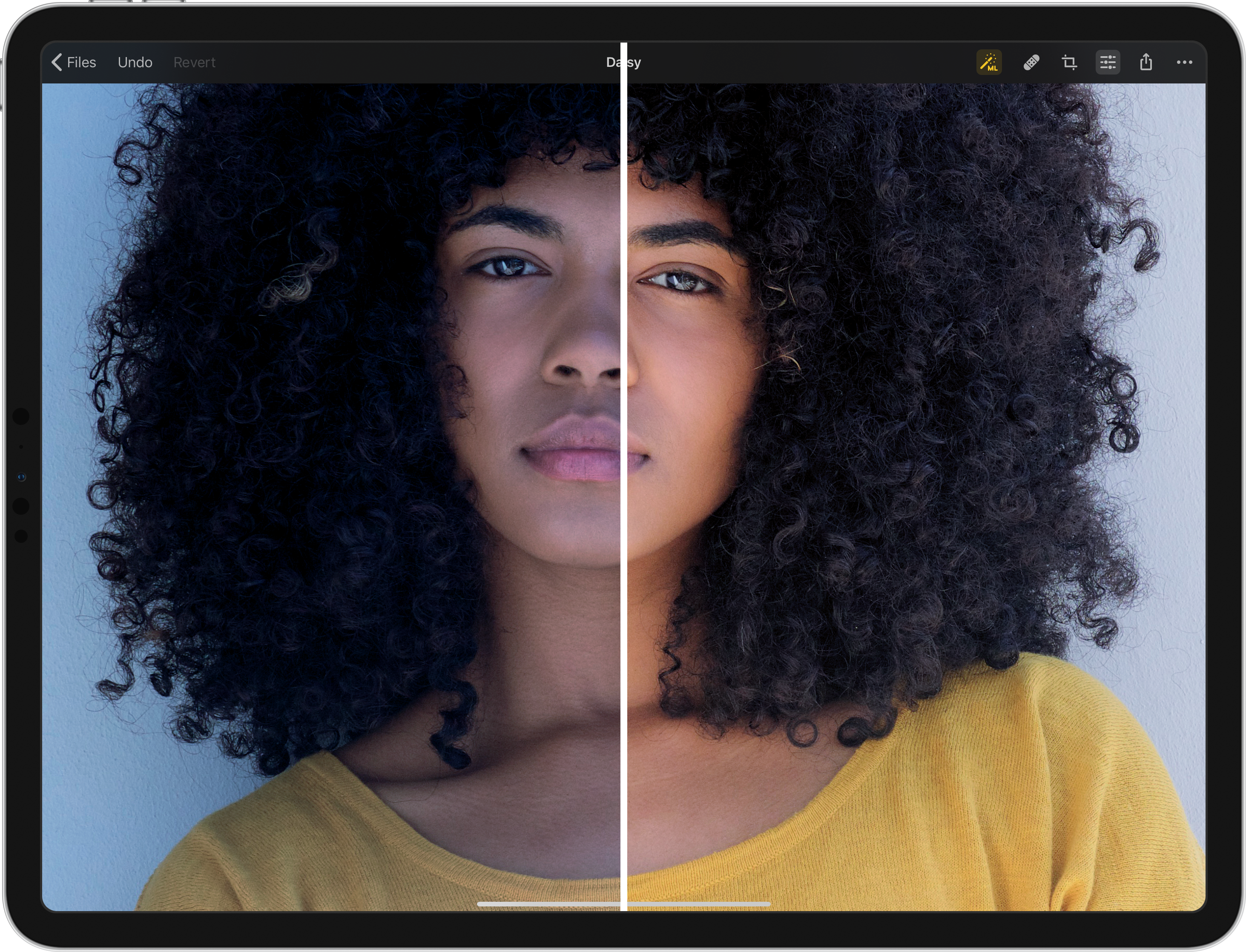 Pixelmator Photo offers photographers tools to edit their photos on their iPad using a collection of nondestructive, desktop-class color adjustments. The developer says the AI-powered app "enhances photographs like a pro photographer, full RAW support, a magical Repair tool to remove unwanted objects, and more."
"Pixelmator Photo is an unbelievably powerful and incredibly easy to use photo editor for iPad," said Saulius Dailide, one of the founders of the Pixelmator Team. "It brings an extensive collection of tools that experienced photographers know and love but, thanks to its clean and intuitive interface, it makes these powerful tools accessible even to beginner users. And with ML Enhance, the most intelligent and advanced automatic photo enhancement tool in any app, truly anyone can create great-looking shots in seconds."
Pixelmator Photo features include:
Powerful tools for improving your photos

• Edit photos using a collection of advanced, nondestructive color adjustments, specially designed to preserve detail and naturally improve photos.

• Take advantage of full RAW support to edit high-resolution RAW photos from your DSLR camera or iPhone.

• Effortlessly remove unwanted objects using the incredible Repair tool.

• Crop, straighten, and correct perspective with an easy-to-use Crop tool.

• Use groundbreaking machine learning to automatically enhance photos, adjust lighting, white balance, and colors, apply presets, and even improve the composition of your photos.

• Edit completely nondestructively, resetting changes made with any tool at any time you like without affecting other edits.

• Share edited photos back to your Photos library, export to a range of different formats, and easily share photos with others.

Desktop-class color adjustments

• Edit photos using a collection of powerful, desktop-class color adjustments.

• Follow all the changes you make in the beautiful live histogram.

• Improve exposure, contrast, brightness, highlights, and shadows using the Lightness adjustment.

• Adjust color saturation, vibrance, and hue with Hue & Saturation.

• Improve the balance of colors in the shadows, midtones, and highlights.

• Selectively adjust individual color ranges using the Selecti​ve Color adjustments.

• Quickly improve brightness, contrast, and color by setting black, white, and grey points using the Levels adjustment.

• Use the Curves adjustment to adjust lighting and color with incredible precision.

• Mix the balance of the red, green, and blue color channels to create intense color effects in your images.

• Replace any color with any other using the Replace Color adjustment.

• Create beautiful black and whites even from your color photos.

• Use the Fade adjustment to wash out the contrasts in your photo and give it a faded look.

• Add beautiful, film-style grain with the Grain adjustment.

• Use a range of additional adjustments, like Sharpen, Color Monochrome, Sepia, and Invert to make any photo stand out.

Groundbreaking artificial intelligence

• Use ML Enhance, trained on 20 million professional photos, to improve your photos like a pro photographer.

• ML Enhance automatically takes care of all the subtle improvements that go into every great shot — white balance, exposure, shadow, and highlight detail — so you can focus on adding your own creative finishing touches.

• Automatically fine-tune individual adjustments, like Lightness, White Balance, Selective Color, and Color Balance using the knowledge from the same 20-million-photo Core ML algorithm.

• Intelligently crop photos using the machine learning-powered ML Crop.

Stunning presets for film emulation, vintage looks, and more

• Pixelmator Photo includes extensive collections of presets inspired by different photography styles and designed for a variety of subjects.

• Create and save your own custom presets.

• The Black & White presets are based on classic black & white analog films for creating authentic monochrome shots.

• The Cinematic presets emulate the orange and teal look, letting you quickly add striking color contrasts.

• The Classic Films and Modern Films preset groups are based on some of the best-known and popular analog films from the past and present, creating subtle and tasteful analog photography looks.

• Use presets in the Landscape, Urban, and Night collections to quickly enhance your nature photos, city photography, and night shots.
Pixelmator Photo can be pre-ordered for $3.99 in the App Store, a $1 discount off of the $4.99 launch price. If you wait until the app becomes available on April 9, you'll pay the full price of $4.99. It's a Pixelmator app, what have you got to lose? [PRE-ORDER IT HERE]