Here's your last chance to grab The Award-Winning Luminar 3 Software Bundle. The bundle not only offers the Luminar 3 software, but it also will train you how to streamline your workflow using the popular photo editor.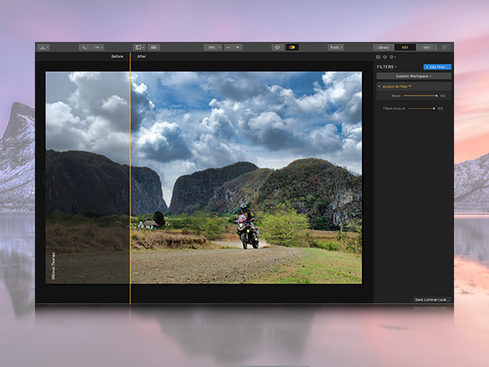 The Award-Winning Luminar 3 Software Bundle: Streamline Your Workflow with This AI-Powered Photo Editor & Learn How to Use it Like a Pro – Just $49
Luminar 3 for Mac & Windows
Use the Power of AI to Streamline Your Editing Workflow & Create Perfect Photos with a Single Click
No matter how great of a photographer you are, it's rare you publish a photo without making some tweaks post-production. Of course, not all of us have hours to fiddle around inside a photo editor to get the perfect shot. That's where Luminar 3 comes into the picture. Using the power of AI, Luminar 3 is a full-feature photo editor and organizer that lets you create perfectly edited photos with a single click! Using Accent AI 2.0, you can make dozens of quick adjustments using just one slider. Combine this with powerful tools, a myriad of filters, and an intuitive interface, and you have a next-level editing solution to streamline your photo workflow.
Voted the Best Imaging Software of 2019 by TIPA!
Make dozens of adjustments using a single slider
Easily browse & sort through images in Luminar 3's library
Use Accent AI to automatically adjust color, details, tone & depth
Automatically detect & improve the sky in your images w/ the AI sky enhancer
Use the foliage enhancer to automatically make greener more vivid & natural
Choose from over 70 different looks & 50 filters to apply to your photos
Reviews
SoftwareHow:★ ★ ★ ★ ★
iMore: "Luminar 3 is an image editor, and photo library rolled into one. It's ideally suited for amateurs and professional photographers alike."
Deep Dive to Luminar 3 by Richard Harrington
Get up to Speed with the Luminar 3 Essentials & Take Your Photos to the Next Level
Looking to take your Luminar 3 skills to the next level? In this course, join instructor Richard Harrington as he takes a look at the new Library feature, filters, Luminar Looks and more so you can take your images to the next level using this award-winning software.
Explore what exactly Luminar 3 is & what it can do
Learn about loading images into Luminar 3 & organizing them
Walk through developing images & enhancing your images w/ filters and looks
Learn how to remove blemishes w/ the eraser & clone and stamp tools
The Award-Winning Luminar 3 Software Bundle: Streamline Your Workflow with This AI-Powered Photo Editor & Learn How to Use it Like a Pro – Just $49