Apple on Thursday seeded the golden master version of macOS 10.15 Catalina to developers. The move comes three days on the heels of the seeding of the tenth beta of the upcoming new macOS operating system.
The golden master version of an operating system represents the final version of the update that will be released to the public. The GM version of Catalina can be downloaded using the Software Update mechanism in System Preferences after installing the proper profile from the Developer Center.
macOS 10.15 Catalina Features
Apple Music, Apple Podcasts and Apple TV Apps
The iTunes app is replaced with three new apps designed to simplify the way Mac users enjoy their favorite music, TV shows, movies and podcasts.
The new Music app offers users access to their entire music library, be they downloaded, purchased, or ripped from a CD. The iTunes music store is available in the app.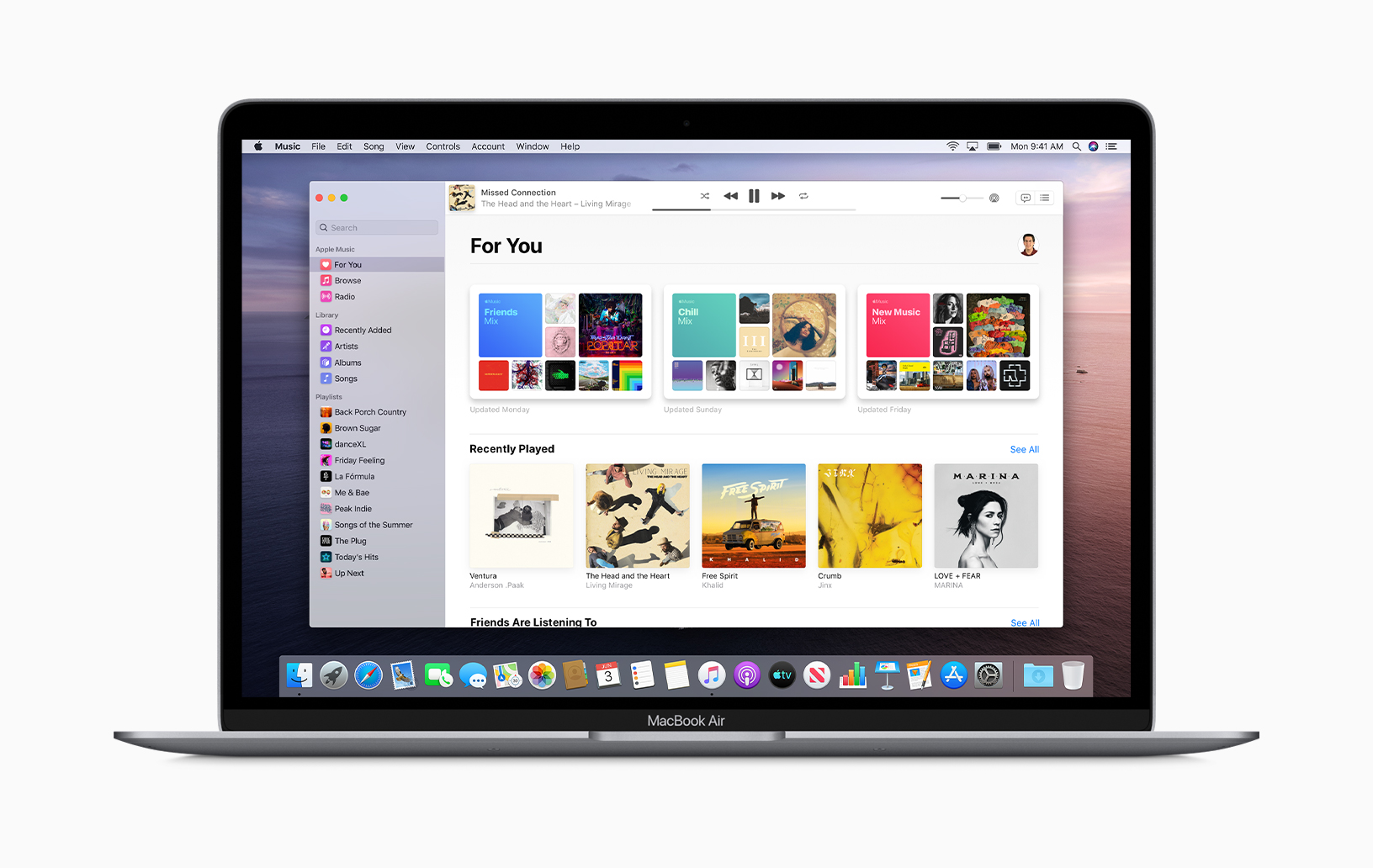 The new Apple TV app Offers access to Apple TV channels, personalized recommendations and over 100,000 iTunes movies and TV shows to browse, buy or rent. 4K HDR and Dolby Atmos-supported movies can also be enjoyed in the app. The Watch Now section features Up Next, where viewers can keep track of what they are currently watching and resume on any screen. The new Apple TV+ video streaming service will be available in the app this fall.
The Apple Podcasts app offers more than 700,000 shows in its catalog and offer users the option to automatically be notified of new episodes as soon as they become available. The app also features new categories, and curated collections, as well as advanced search tools that can find episodes by host, guest or even discussion topic.
If you still sync your iOS device using iTunes, don't fret. When users connect a device to their Mac, it will immediately show up in the sidebar of Finder, enabling them to backup, update or restore their device.
Sidecar
Sidecar allows users to use their iPad as an extended display for Mac and a high-precision drawing tablet across supported Mac apps. When paired with an Apple Pencil, they can use their iPad to draw, sketch or write in any Mac app that supports stylus input.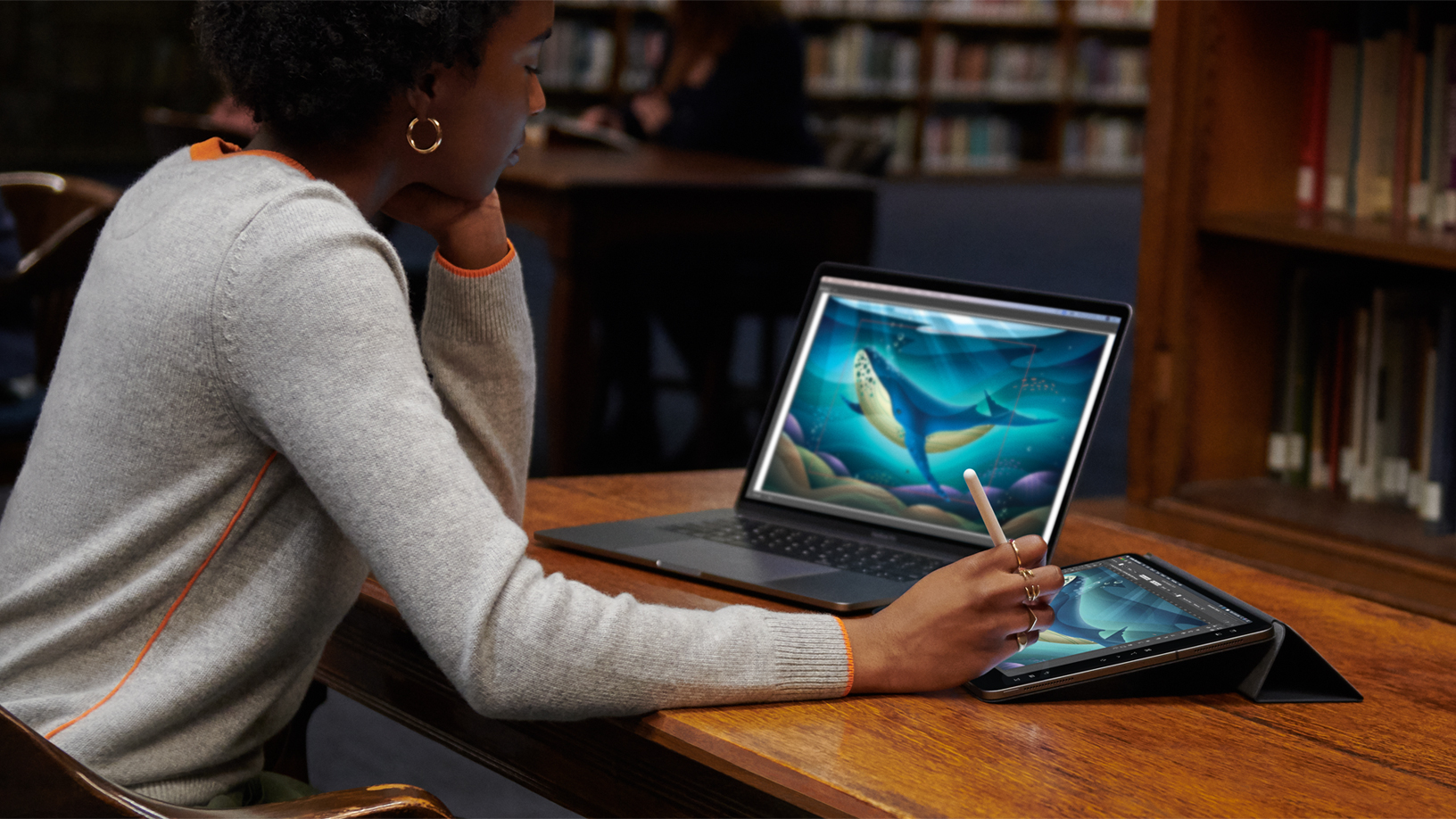 Accessibility
With macOS Catalina, Apple is introducing new assistive technologies. Voice Control enables users who can't operate traditional input devices to control their Mac entirely with their voice using on-device Siri speech recognition technology. New labels and grids let users interact with virtually any app using comprehensive navigation tools, with audio processing happening on-device. Voice Control is now also available on iOS and iPadOS.
Screen Time
Screen Time makes the move over from iOS and gives users insight into how they spend time in apps and on websites, and the tools to help decide how to spend their time on their Mac. Users can schedule time away from their Mac and determine how much time they want to spend within apps, websites or categories of apps. With iCloud, users can sync Screen Time settings and combine their usage across iPhone, iPad and Mac privately through end-to-end encryption. Parents can also better manage their children's device usage.
Additional App Enhancements
Photos features a beautiful new browsing experience that intelligently showcases the user's best pictures.
Safari has an updated start page that uses Siri Suggestions to elevate frequently visited sites, bookmarks, iCloud tabs, Reading List selections and links sent in Messages.
Mail in macOS Catalina adds the ability to block email from a specified sender, mute an overly active thread and unsubscribe from commercial mailing lists.
Notes now has a brand new Gallery View, more powerful search tools and additional collaboration options.
Reminders has been redesigned with an all-new user interface that makes it easier to create, organize and track reminders.
macOS Catalina eliminates the iTunes app, splitting it into Music, Podcasts, and TV apps. The three new apps offer similar functionality to iTunes, but are split up by feature. iOS device management is still available on the Mac, but it's now done through the Finder rather than iTunes.
With a new Sidecar feature, you can turn your iPad into a second display for your Mac with just the click of a button. The Apple Pencil works with Sidecar, so you can turn your iPad into a drawing tablet in apps like Photoshop and Illustrator.
Your Apple Watch can be used to approve security prompts for passwords and other info in macOS Catalina, and Macs with a T2 chip now support Activation Lock, making them more secure. There's a new Find My that brings the Find My Mac app to the Mac for the first time and even lets you track your devices when they're offline, or, in the case of notebooks, closed.
Screen Time is available on the Mac as well as iOS devices, and Project Catalyst, a new Apple initiative, will let developers easily port their iPad apps over to the Mac to increase the number of Mac apps available.
There's a new Photos interface that surfaces your best photos organized by day, month, or year, there's a new start page in Safari, Mail has new tools for muting email threads and blocking senders, and the Reminders app has been overhauled.
32-bit apps no longer work in macOS Catalina, which is something to be aware of before installing the beta.
macOS 10.15 Catalina is compatible with the following Macs:
MacBook: 2015 and later
MacBook Air: 2012 and later
MacBook Pro: 2012 and later
Mac mini: 2012 and later
Mac: 2012 and later
iMac Pro: 2017 and later
Mac Pro – 2013 and later