ScotteVest has long been known for their tech-friendly outerwear. Some of you might be wondering why a tech blog is talking about clothing… the answer is simple: This garb is designed with geeks in mind. Today we'll review their Fleece 5.0 Jacket.
I've often wondered whether the ScotteVest products really live up to the hype – in my time with the Fleece 5.0 jacket, I feel that they probably do. Their gadget pockets, cable management system, and excellent weight distribution make them an invaluable resource. The Fleece 5.0 is durable and well-designed, keeps you warm, and keeps everything you need on hand.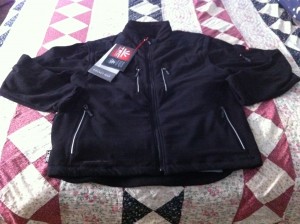 The Idea

ScotteVest was born from the idea that you should be able to carrying everything you need on your person, in the simplest possible manner. This idea really comes to life in the Fleece 5.0. It's 24 pockets held everything I could think of carrying, and then some, and the fact that it transforms into a vest makes it that much more useful. Designed for geeks, the ScotteVest includes built-in cable management, so you can route your headphones through the jacket, and so forth.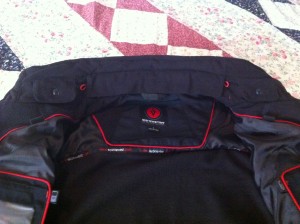 The Presentation
The Fleece 5.0 came in a simple flexible plastic mailer, well protected by an internal plastic sleeve. It's well-packaged with a minimum of materials, and (this is a biggie) it comes with a pocket guide (necessary for you to navigate its massive assortment of 24 pockets), as well as instructions for how you can feed your cables through the jacket for maximum utility.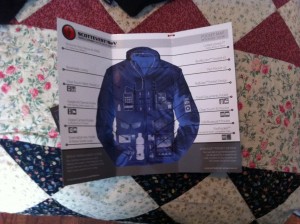 The Carry-Through
SeV has carried this idea through extraordinarily well. They have managed to produce a jacket that is not only quite warm (and extremely comfortable), and also capable of holding everything you need without revealing it to the outside world. The pockets are designed so that there is minimal bulge visible from the outside of your jacket, leaving observers clueless as to how much crap you've stuffed in there.
In its height, I had this jacket carrying my iPad, my keys, two portable hard-drives, a 12-page academic paper, my wallet, my ID, an iPhone, my digital camera, 50 business cards, and a couple of rolls of poker chips, all without any of this being apparent from the outside.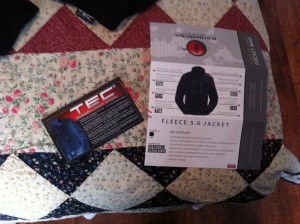 It Likes My iPad
Perhaps the most notable feature, at least for me, is the PadPocket, which is capable of holding an iPad with or without a case, and zipping it into the jacket. This makes it much easier than usual for me to carry my iPad 2, and as I result, I found myself taking it more places. The ScotteVest works extremely well with the iPad, which is something I have really become grateful for.
I also LOVE that putting the iPad in the PadPocket does NOT weight down your jacket tremendously, as the weight management is excellent – I did not have to deal with the jacket sagging down my shoulder if I overloaded one side.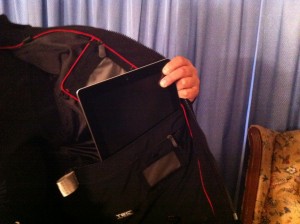 Conclusion
The ScotteVest is a fantastic and amazing product, extremely well designed, and makes it simple for you to carry a ridiculous and massive array of junk with you without it being a hassle, and without carrying a huge bag everywhere you go. I give it 5 out of 5 stars for being so damn useful, and for leaving nothing for me to desire in their design.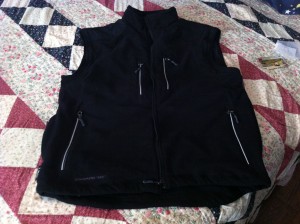 It's also important to note that the Fleece 5.0 is on sale today for 20% off – so if you think you might like one, I highly reccommend jumping on this amazing offer sooner rather than later! Simply enter the coupon code FLEECE20 to get your discount. For more information, or to purchase ($140, or $112 if you buy today and use the coupon), visit ScotteVest online.