Angry Birds has been updated once more, with a new content pack called Mine and Dine. The new levels are, of course, mining related, as the piggies have burrowed underground to hide the stolen eggs.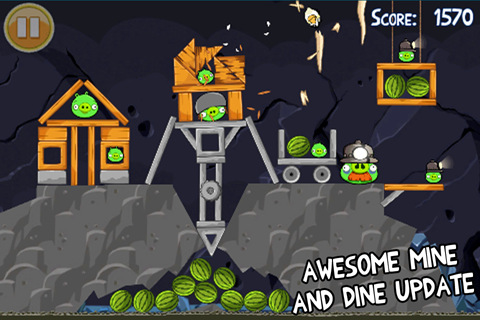 From Rovio:
Mining and Dining with the burrowing piggies continues! With a bottomless appetite, the bad piggies have burrowed deep in underground caverns to hide the eggs they stole from you. Use the landscape and geology to your advantage to chase the pigs out of their hiding holes, gather rare gems, and retrieve the eggs!
15 new levels for the Mine and Dine episode!
Find more collectible jewels!
Problems with loading times when starting Angry Birds? We fixed 'em!
Mighty Eagle still in business: Buy once, unlimited use!
I'm glad that Rovio is still working hard to churn out additional free content for Angry Birds. The update is available now through the App Store. If you don't have Angry Birds yet, you can download the iPhone version for $0.99 (App Store Link), and the high-res iPad version for just $1.99 (App Store Link).