Following reports back in September that Comcast was working on a live TV streaming service, the company has now begun rolling out its AnyPlay live TV streaming service for the iPad. The service is similar to offerings from other cable companies, such as Time Warner and CableVision.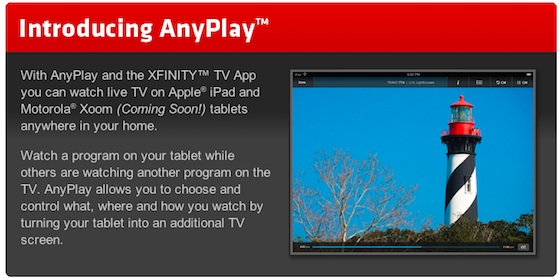 The company officially announced the rollout to their customers today. Xfinity HD Triple Play customers in Denver and Nashville will be the first to get the new service, with additional markets added over time. The service is launching on the iPad first, and will eventually come to the Morotola Xoom as well.
The service requires a separate AnyPlay receiver, which works like a set-top box, but delivers your incoming channel lineup through WiFi, which then broadcasts the signal to your iPad or other device over your home network. The service will work as long as you are within network range, allowing you to turn your iPad into a second television screen
Comcast's existing Xfinity TV app for the iPad, which features a host of on-demand movies and shows, is used to access the new service. Comcast is currently the largest cable and internet provider in the United States.