In a note issued to clients earlier today, well-known analyst Gene Munster provided the results of Piper Jaffray's annual mobile phone survey, and made a number of interesting observations about the results. A chart mapping the survey data can be found below (click to expand).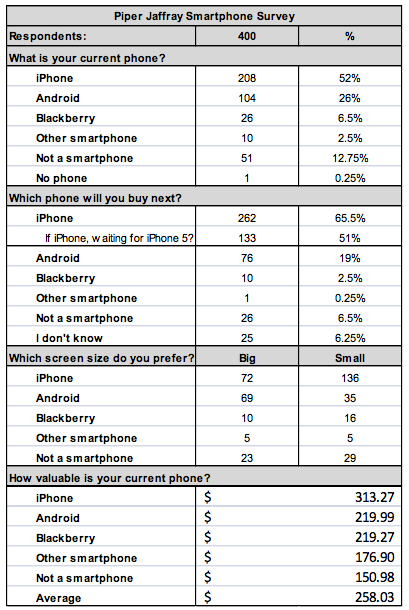 As reported by Fortune (via The Loop), Munster notes that 65% of all mobile phone users surveyed responded that they were planning to purchase an iPhone as their next phone:
In a note to clients issued Tuesday, Piper Jaffray's Gene Munster reported the results of his annual cell phone survey. The key takeaways: – Asked what phone they were going to buy next, 65% said an Apple (AAPL) iPhone, 19% said a Google Android, 6.5% said "not a smartphone," 6% said "I don't know," and 2.5% said a Research in Motion Blackberry. – 94.2% of iPhone users plan to buy an iPhone for their next phone.
In comparison to the iPhone's 65% result, only 19% of respondents planned to purchase an Android device as their next phone. He also notes that, while Android's re-buy rate is growing (60%, up from 47% last year), the platform is still losing a third of their current users to the iPhone.
These are very interesting results – and it's not just because folks are anticipating Apple's next-gen iPhone. In fact, Munster notes that only 51% of those who planned to purchase an iPhone as their next mobile were planning to upgrade to the "iPhone 5."
The survey also notes that iPhone owners value their phones at a higher dollar value than Android users, and that, judging by the survey findings, Apple is virtually guaranteed to sell over 80 million of their next-gen iPhone right of the bat!
There are a number of other interesting findings in the report as well, and a chart mapping his survey data . Check out the full list of highlights over at Fortune!