Apple has been playing with ideas for heads-up displays and video glasses since 2006. They have been granted two patents so far that is related to this technology. Today, the U.S. Patent Office published a new patent application from Apple related to a smaller display with Retina Display like quality.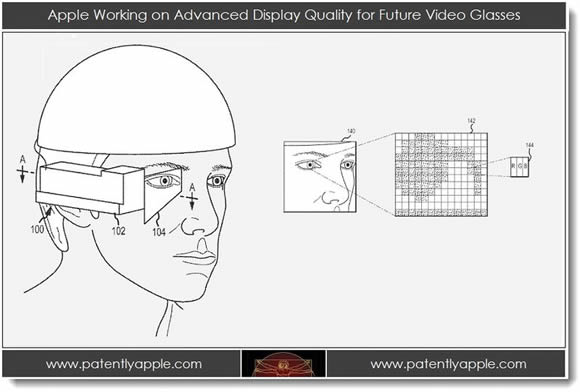 Patently Apple:
While today's patent fills a need in Apple's video glasses project it has to be one of the driest reads of the year. For those interested in the finer details of this invention, check out Apple's latest patent application titled " Display Resolution Increase with Mechanical Actuation."
The published patent application from Apple contains information about a future heads-up display that would deliver Retina Display like quality on a smaller display, that would be powered by a much smaller battery than an iPhone.
The graphics used in the patent show a odd bicycle helmet like headpiece that is in no way stylish. But bear in mind, this is not a design patent. The graphic merely displays a generic heads-up display concept. Knowing Apple's team of designers, the final product, if there ever is one, will almost assuredly be much more stylish.
Apple also notes in the filing that "other embodiments may take the form of other types of display devices such as television sets, computer monitors, projection systems, and so forth."