Apple's highly anticipated next-gen iPhone doesn't actually exist yet – but that isn't stopping some Chinese retailers from selling it anyway! Reuters reports (via 9to5Mac) that the "iPhone 5" is already for sale from a number of Asian sellers.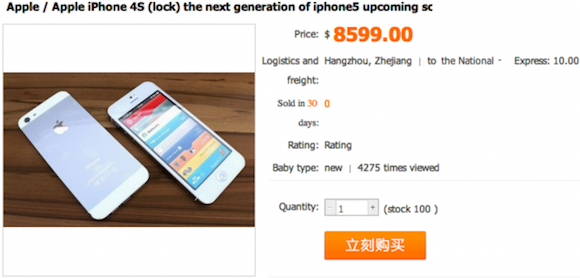 Apple Inc's next-generation iPhone has not even been released yet, but opportunistic sellers on China's largest e-commerce platform, Taobao, are already accepting pre-orders, complete with mock-up pictures and purported technical specifications.
The listings feature pictures of mockups based on current rumors about the design of the next-gen iPhone, such as a slightly taller design and a two-tone metal rear panel.  Further, CultofMac notes that the prices for some of these listings are just ridiculous – up to $9600!
While some of the listings are just "pre-orders," similar to the one we posted about a few days ago, others are asking for the full purchase price up front – and unfortunately, some eager customers will probably fall for it.
Putting down money for a product that hasn't even been announced yet,  with details based solely on rumors, is an excruciatingly bad idea – but unfortunately, not everyone will have the sense to think twice before plunking down their hard-earned cash.