There's a fun little photo app now available in the App Store – PhotoMojo! (from HalfPeeled.) It's just been released for both the iPhone and the iPad, and allows you to add effects, blur, text, stickers, and a whole lot more – a great way to have fun with your photos, while sharing the memories with others.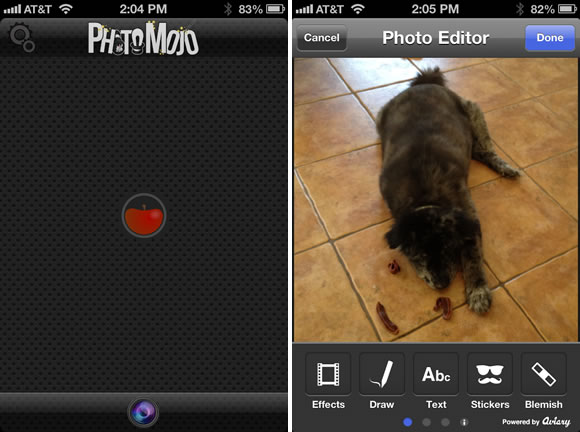 PhotoMojo! is powered by the Aviary editing tools. As well as the above mentioned things you can do with your photos, you can also add borders to spice up your photos. It has over 25 borders to choose from.
I selected an action photo of my faithful canine sidekick, Lloyd the Wonder Dog, with his chew treats scattered around him, and began to play with the options.
After experimenting for a few minutes, I was able to apply various effects, adjust the brightness and contrast, play with the sharpness, and if he had red-eye (which is REALLY scary in dogs), I could have gotten rid of it.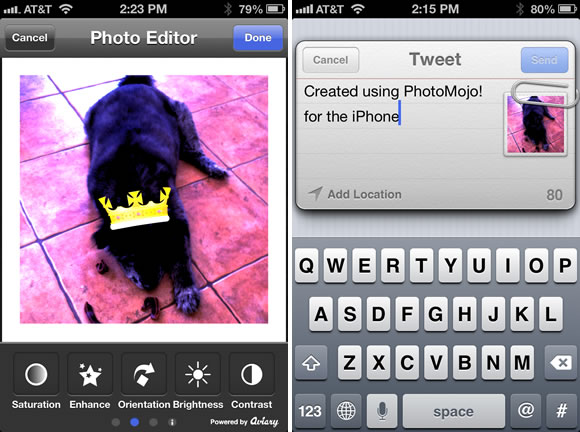 After I saved my creation, I found options to share it to Instagram, Twitter, or Tumblr, I could also email it or print it
PhotoMojo! is just $0.99 right now in the App Store for both iPhone and iPad. Go ahead and give it a try!