According to a new report, Apple may be planning to introduce all-new models of both the iPod touch and the iPod nano alongside the next-gen iPhone this fall, marking a significant update to numerous product lines this fall.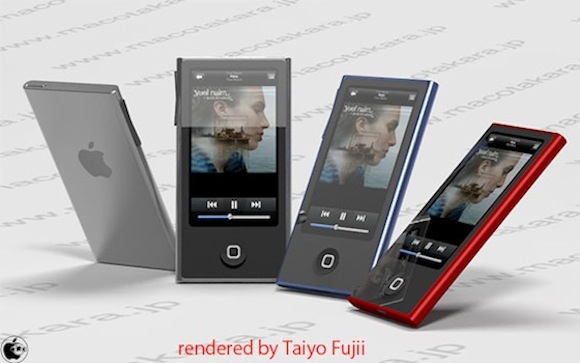 As noted by MacRumors, KGI Securities analyst Ming-Chi Kuo states that Apple is planning an "all-new' version of the iPod touch this fall, possibly for release at the same time as the next iPhone. The new model will reportedly feature in-cell touch display tech, which is rumored for both the next-gen iPhone and the rumored iPad mini.
Kuo also claims that a new iPod nano will be released (mockup above via MacRumors). The analyst that the new iPod models will cause  strong quarterly growth in Apple's iPod sales (although most of those sales will revolve around the iPod nano), and also notes that supplies are likely to be constricted due to the new displays.
Notably, Kuo has an excellent track record when it comes to claims about Apple products, including having correctly predicted the death of the 17-inch MacBook Pro, that the Retina MacBook Pro would be a separate product from the traditional MacBook Pro.
If the report is accurate, we could potentially see Apple launch 4 separate products this fall – the iPod touch, the iPod nano, the rumored iPad mini, and of course the next iPhone. It will be interesting to see how this all plays out!