Although the first OS X 10.8.1 update for Mountain Lion hasn't quite been released yet, Apple is already preparing to seed their first build of OS X 10.8.2 to developers, which is expected to add full compatibility with new features in iOS 6.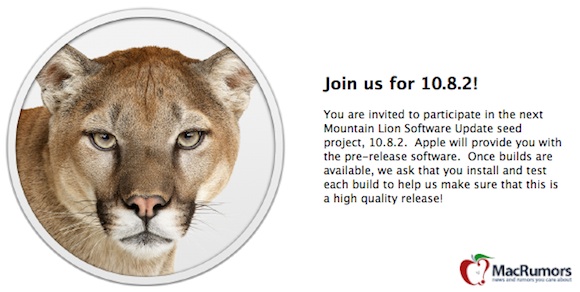 MacRumors reports on an email from the AppleSeed customer testing program:
Join us for 10.8.2!

You are invited to participate in the next Mountain Lion Software Update seed project, 10.8.2. Apple will provide you with the pre-release software. Once builds are available, we ask that you install and test each build to help us make sure that this is a high quality release!
It's unclear when Apple plans to release 10.8.2, or what it will contain, but it's likely that the update will bring full support for new features in iOS 6 – such as the ability to link a phone number to iMessage on the iPhone, as well as the iPad and Mac.
Facebook integration and Shared Photo Streams are also expected to arrive this fall, making those likely candidates as well.