What is #Friday5?
#Friday5 is a weekly giveaway that rewards 5 of our Twitter followers with a free copy of a Mac app, iOS app, or e-book each and every Friday! Cool huh? But wait, there's more…. one of the lucky five will also pocket a $20 iTunes voucher! Hurrah!
#Friday5 – AppleScript: The Missing Manual!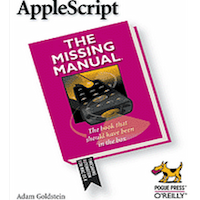 We have hooked up with O'Reilly to give away 5 copies of AppleScript: The Missing Manual – the ultimate go-to reference for enhancing your productivity with AppleScript! This ebook would normally set you back $23.99, but we're giving away 5 copies today for free!
To enter the giveaway all you have to do is follow @macdrops (our new giveaways and discount deals Twitter account) and RT the below message on Twitter.
AppleScript: The Missing Manual is this week's @MacDrops #Friday5 – the ultimate guide to using AppleScript! http://mctr.st/PVcyGV
About AppleScript: The Missing Manual
From the publisher:
From newspapers to NASA, Mac users around the world use AppleScript to automate their daily computing routines. Famed for its similarity to English and its ease of integration with other programs, AppleScript is the perfect programming language for time-squeezed Mac fans. As beginners quickly realize, however, AppleScript has one major shortcoming: it comes without a manual.

No more. You don't need a degree in computer science, a fancy system administrator title, or even a pocket protector and pair of nerdy glasses to learn the Mac's most popular scripting language; you just need the proper guide at your side. AppleScript: The Missing Manual is that guide.

Thanks to AppleScript: The Missing Manual, the path from consumer to seasoned script has never been clearer. Now you, too, can automate your Macintosh in no time.
WINNERS!
Congrats to @rosscraig, @deanfx, @ahovious, @iceismylife & @urandrod – they won a copy of AppleScript: The Missing Manual in today's #Friday5! And an extra congrats to @ahovious, who also won a $20 iTunes voucher!
The Winners
We will pick out the 5 winners at random, and we will also reward one of the lucky winners with a $20 iTunes voucher. The competition is open to everyone (there is no regional restriction).
The competition runs for two hours after this post is published. Winners will be announced on this page and on Twitter.
In order to claim the $20 iTunes voucher you must have an iTunes account. If you do not have an iTunes account (or can't create one) we will draw another winner at random from the four remaining app winners and reward one of them with the voucher.