Do you love getting great deals on Mac apps? If your answer is yes, we've got a deal for you! Our iStack Mac Bundle is here once more, offering $782 worth of great Mac apps (including Crossover XL and Camtasia 2) for just $49!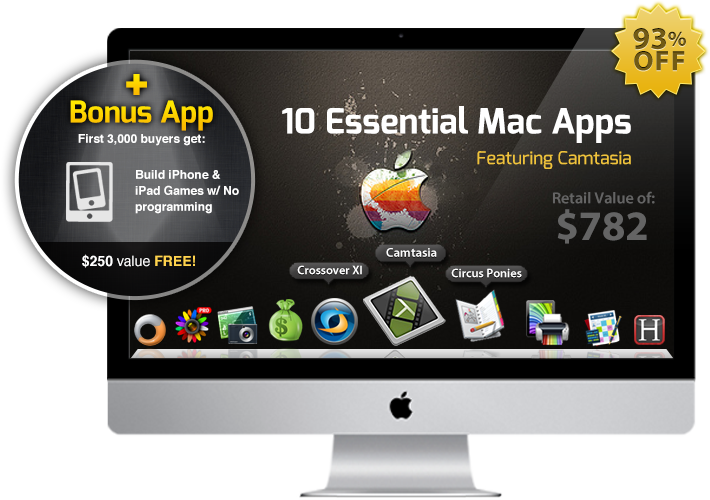 Here's what you get for your $49:

Camtasia 2 for Mac
Highlights
Easily capture what you're seeing & doing
Communicate your thoughts to the world via beautiful videos
Capture anything on your screen
Focus your videos on what matters
Call attention to the important details in your video
Circus Ponies NoteBook
Highlights
Take rich notes using powerful outlining, diagramming, and sketching tools
Easily organize schoolwork, projects, client materials
Capture every detail from meetings and lectures with voice annotation
Find any note or document instantly
CrossOver XI
Highlights
Run Windows applications and PC games on your Mac
Run Windows applications without rebooting
Run Window apps without a Windows license
Run Window apps at native speeds

FX Photo Studio Pro
One Application With Unlimited Creativity
Highlights
Award winning photo app with 172 high quality effects and filters
One of the best variety of photo effects among photo applications
Possibility to apply multiple layers to one image
Sharing via most popular social networks
LittleSnapper
Highlights
Capture picture-perfect screenshots
Automatically categorize all of your snapshots
Easily add annotations to your snapshots
Printopia
Highlights
Wireless printing from your iOS devices to your Mac's printers
Easy and instant set-up
A simple interface with a ton of advanced features to customize your mobile printing experience

xTeam
Highlights
An incredibly useful tool to manage the working schedule of people in your team, group, or organization
Share information, work jointly on schedules, and use all of your available human resources as efficiently as possible
Create daily working schedules, manage days off for each person and track holidays
MoneyBag
Highlights
Tracks and analyze your financial transactions
Interpret and monitor your spending and saving patterns with unprecedented ease and simplicity
The Mac App for financial freedom
Habits
Highlights
Shed a bad habit or develop a healthy one
Combat typical obstacles that keep people from achieving goals
Stay motivated and accountable
SyncMate Expert
Highlights
Synchronize your Mac with multiple devices to easily access all your information
Synchronize your Mac with online accounts
Sync up your calendar, to do/reminders, contacts, mail, stickies, bookmarks, music, and more
Build iPhone & iPad Games W/out Programming
Highlights
Over 222 lectures and 10 hrs of content
Learn to build iPhone & iPad games without programming a single line of code
Learn how to use Game Salad to build your apps
Get your iPhone & iPad games to the App store
It's a pretty great deal for some top Mac apps – and the added bonus of an iOS app dev course makes this deal even sweeter! Check it out at our promo page! And don't forget to check our Deals hub for even more great offers, freebies, and giveaways!
Update: This officially ends today – last chance to take advantage!