Ranging from an Apple iPad skin that's no thicker than a thong, to sneaker like rubber coated square monstrosities, I've seen and tested many cases, covers and protectors. Some have combined a few good ideas into one solution, while others forgot to design something elegant without unnecessary bulk. Making something simple that has the functionality to help with real-world needs is what the Us+U Swivel ProFolio is nearly perfect at accomplishing.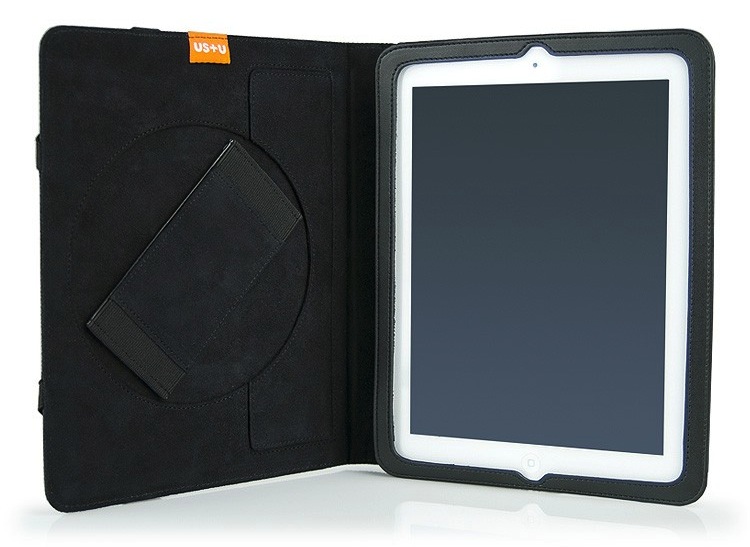 Overview
The Us+U Swivel ProFolio is the only professional level portfolio style iPad case, for the iPad 2 and 3 for professional and personal use that combines five specific features, like a no-click fully rotating hand strap and small details, like a notch for the light sensor that other designs cover.
Five features on most all iPad cases equate to a bulky design, thankfully not for this cover. One of those features are the swivel, but this is one that does so at any angle, not just in 45° or 90° increments with a self-adjusting hand strap. A hand strap sans Velcro is more professional and makes for quicker use.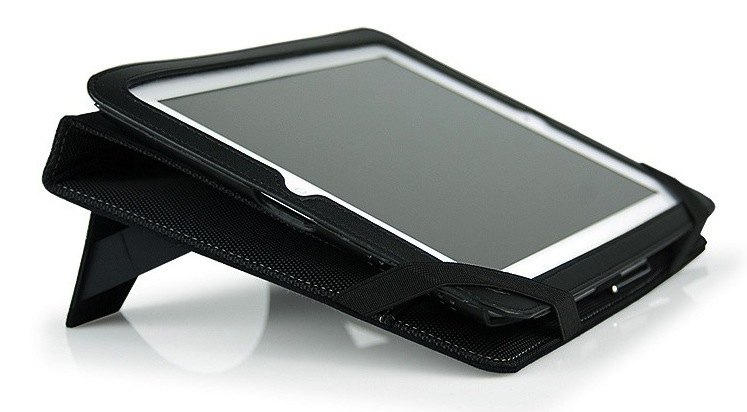 A cover that has a built-in kickstand should fit flush, not to scratch the iPad's screen. The ProFolio's kickstand fits flush and attaches to one side of the two-panel case with magnets, lined with micro-fiber suede that won't scratch the screen when it's closed. Typing on an iPad has been difficult to do on one leg, until now. A small but important detail of the kickstand is that it has a circular cutout, so that it steadies nicely on one leg.
The iPad is mainly used to consume content like video, surf the web and read books and magazines. A cover accessory that has stand functionality should also be able to provide multiple viewing angles, to make consuming content easier. This case has many preferred viewing angles, both when folded back and secured with the elastic corner straps and the kickstand. A few of the angles work nicely during FaceTime sessions.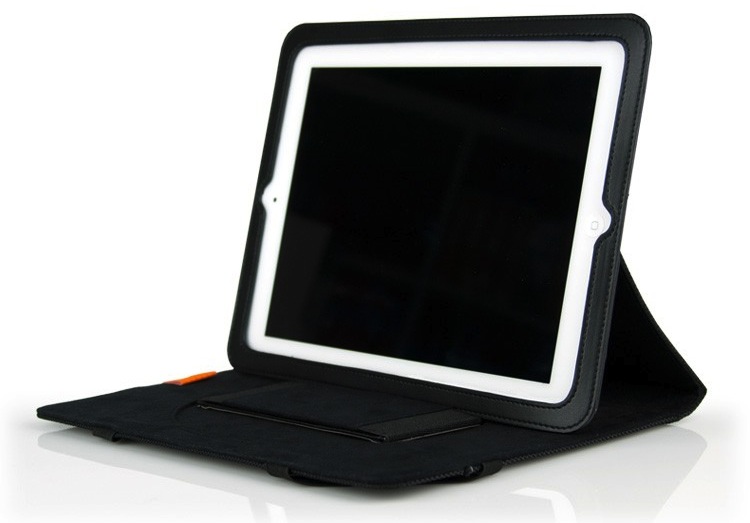 Along with the kickstand, self-adjusting hand strap, full 360° rotating swivel, the case offers easy access to all buttons and ports on the iPad 2 and 3. The lower open port on this case is cut for a 30-pin connector; it should fit the iPad 4 Lightning cable as well. This case is unique in that it has a fold back design, with securing corner straps, which allows for its magnetic kickstand to extend for a comfortable typing angle. Additionally, the hand strap works when the case is folded back.
Cutting through the market with a case, cover or a skin is hard to do with the sheer volume of available accessories, but the Us+U Swivel ProFolio stands out. It's thin and useful enough to be a "daily driver" for a professional or traveler. The swivel self-adjusting hand strap should work well for those that need a free hand while at a job site or in need of a manual via iPad while working on a repair. Even though the case is made for iPad 2 and 3, it should fit the iPad 4 nicely.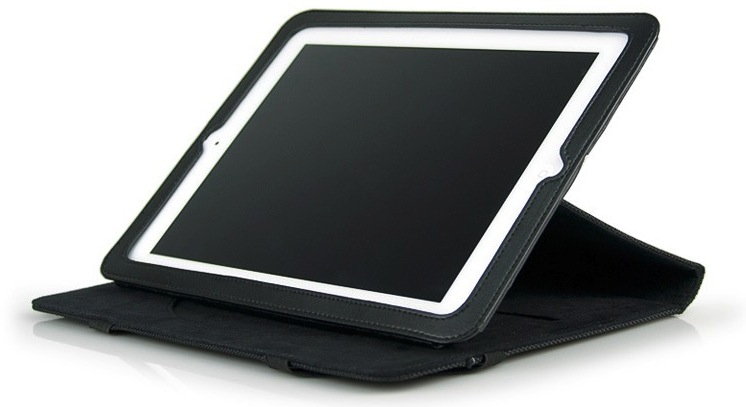 Verdict[rating:4.5]
Us+ U is all about making exceptional products for the iPad. That's the key to the design of this case, it's svelte looking, professional and feels like it's built to last. The Us+U Swivel ProFolio case currently sells for a special price of $54.99 from the manufacturer's website. Check out their product page for more details, or to purchase.
Pros
Thin, professional design
Self-adjusting, comfortable hand strap
Magnetic, flush fitting kickstand with center cutout
Fully lined interior with micro-fiber suede
360° Swivel for single handed operation
Ballistic nylon tightly stitched onto the iPad cover
Cons
Corner elastic straps seem like an afterthought
No way to secure horizontal viewing angle