Porn has made it onto the iTunes Store. Sort of. I admit I thought I'd never see the day, but in Russia, I guess anything can happen. A bug has seen the front page of the Russian iTunes store go from music, apps and TV shows to escort services, porn and sex toys, 9to5Mac reports. Not what people were expecting.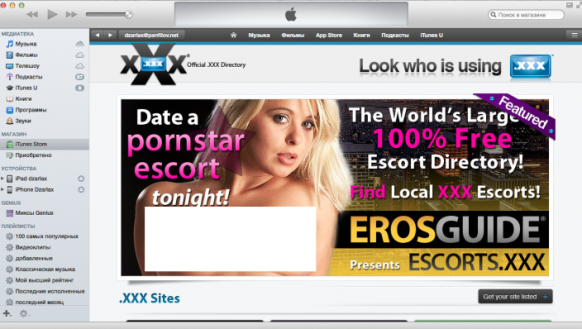 A number of users have been tweeting about the issue, and according to iPhones.ru some Google Translated Russian, it could be down to a dodgy link placeholder:
Update: most likely, the problem arises because of links: the people responsible for iTunes, put the "temporary" link type xx.xx.xx. That's just such a site exists, and, as we have seen today, has nothing to do with the ideals of the company.Waiting for the fix.
This is both ironic and embarrassing for Apple, which prides itself on having a zero tolerance policy on anything pornographic. We'll update you if/when this gets fixed, but obviously you'd expect the bug to be removed soon rather than later.