Three major Russian wireless carriers have dumped Apple's iPhone within the last week, due to high subsidy and marketing costs associated with Apple's popular handset.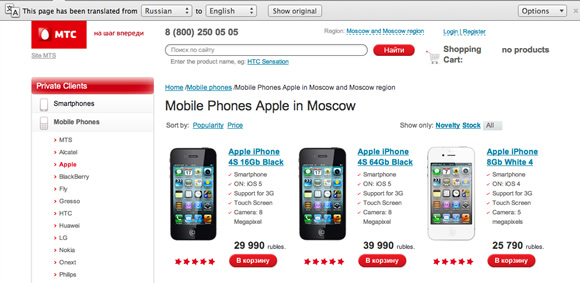 While the Russian market is not yet a huge source of revenue for the smartphone market, Apple's loss of support from MTS, VimpelCom and Megafon will negatively impact its reach in the burgeoning market, reports Fortune.
MTS, Russia's largest provider, last week announced it would be dropping the iPhone, due to high subsidies and marketing costs.
"Apple wants operators to pay them huge money, subsidizing iPhones and their promotion in Russia," said MTS CEO Andrei Dubovskov. "Now it's not beneficial for us. It's good we stopped selling the iPhone as these sales would've brought us a negative margin."
Fortune's Philip Elmer-Dewitt says three factors may have played a part in the carrier's decision to drop the iPh0ne:
Russian federal agency Rospechat, doesn't allow subsidies on the same level as seen in the U.S. So, MTS is not able to offer an iPhone 5 for $199.

Higher duties and taxes. An unlocked 16GB iPhone 5 sells for roughly $925 on on the recently-opened Russian Online Apple Store, that's $276 more than an identical U.S.model. $140 goes to Russian VAT, while the remaining $129 is for foreign exchange rates, import duties, and channel mark-up.
Apple's contract requirements, mainly those pertaining to marketing, are said to be extremely stringent.
Estimates form IDC suggest that demand for the iPhone was already on the decline in Russia, down to an 8.3% share of the market place in Q2 of 2013, down from 9% in 2012.