Apple CEO Tim Cook is currently in Beijing, China for a meeting with Chinese government officials, but he won't be flying straight back to the U.S. He will first make a stop in India on Tuesday to meet with Prime Minister Narendra Modi.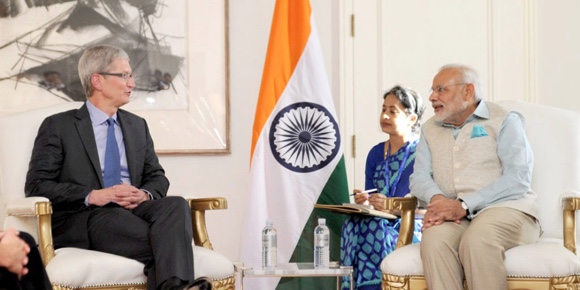 Cook's visit, following a trip to China, comes at a crucial time as Apple looks for new growth markets after posting its first ever decline in iPhone sales, and as India has denied it permission to sell refurbished phones – a move seen as key to appealing to price-sensitive local consumers.
The visit is the first-ever for Cook since he became CEO of Apple. He is also expected to visit with employees and partners while in India. The country is an important market for Apple, as it is the second most populous country in the world. (China is number 1.)
It isn't known if Cook will bring up the sale of refurbished iPhones in the country with Indian officials. Reuter's sources – who declined to be named, as the travel plans had not yet been made public – say Indian officials would like to know if Apple has plans to build production facilities in India. Such a move would reflect well on Modi's "Make in India" manufacturing push.
Maharashtra, also run by Modi's Bharatiya Janata Party, is already in talks with Apple product maker Foxconn Technology over it setting up an iPhone plant there.
Over 100 million smartphones were sold in India in 2015, and the market is expected to grow by 25% in 2016. That makes India one of the fastest expanding smartphone markets in the world.
Since his 2014 election, Prime Minister Narendra Modi has encouraged discussion with U.S. tech companies as a part of his campaign to bring jobs to India. Modi met with Cook last year during his visit to Silicon Valley.