While most people prefer to read ebooks in iBooks on their iPad, the larger screen of the iPhone 6s and iPhone 6s Plus do offer an adequate size for reading. Plus, they offer something you won't get on an iPad, 3D Touch.
Use 3D Touch to Preview a Chapter in the Table of Contents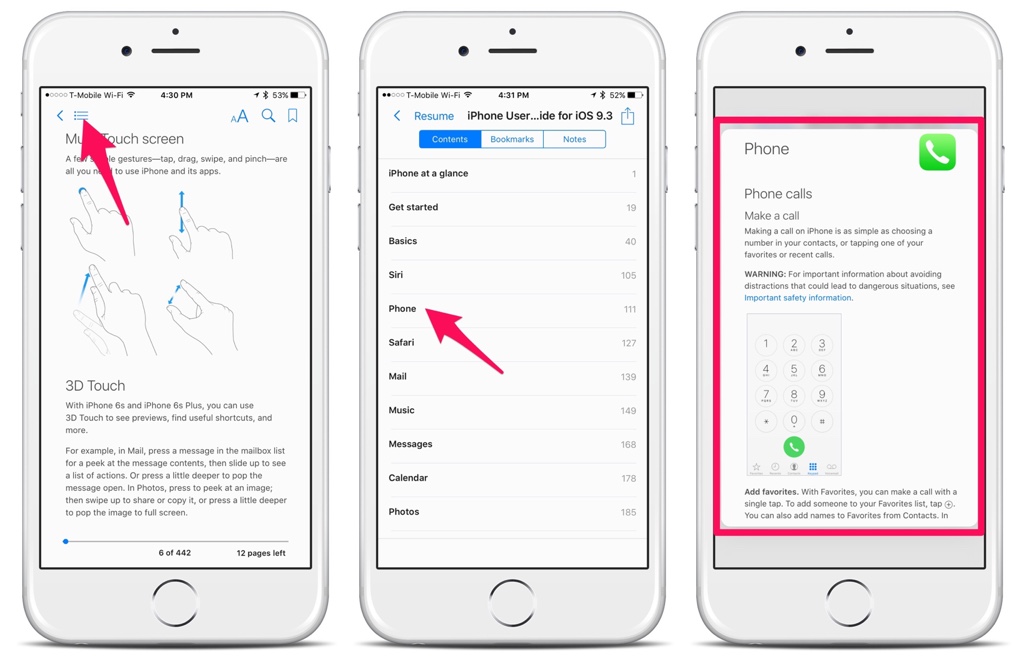 It's easy to preview a chapter from the Table of Contents in iBooks, which is particularly handy for manuals, such as the free iPhone User Guide.
Here's how:
Open the iBooks app.
Tap the cover of the book you want to read or preview the chapters in.
Go to the Table of Contents, by tapping the icon in the upper, left corner.
To preview a chapter in the Table of Contents, peek into the chapter you want to preview with a hard press of your finger. Press a bit harder to poke into and read the chapter.
This tip is handy if you're not sure which chapter you want to read, or if, like in the screens above, you want to see if the chapter is related to what you're looking for. Remember, this tip is only for the iPhone 6s and iPhone 6s Plus, which have the fantastic 3D Touch feature.