T-Mobile was the first out of the gate with a free iPhone 7 promo, followed quickly by Sprint. Now Verizon and AT&T have decided to join the free iPhone 7 club, and are offering similar deals to their customers. Verizon's deal pretty much matches that of T-Mobile and Sprint, while AT&T's deal requires you to also subscribe to DirecTV.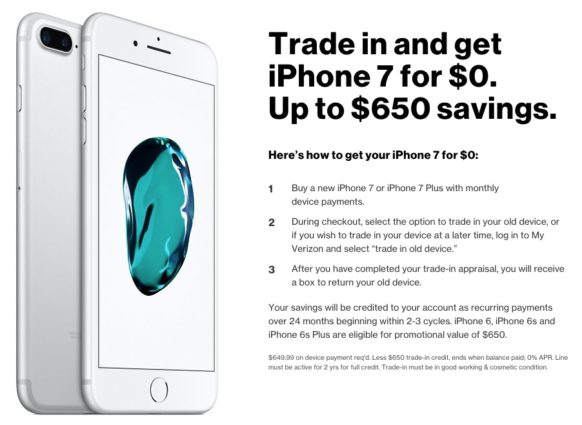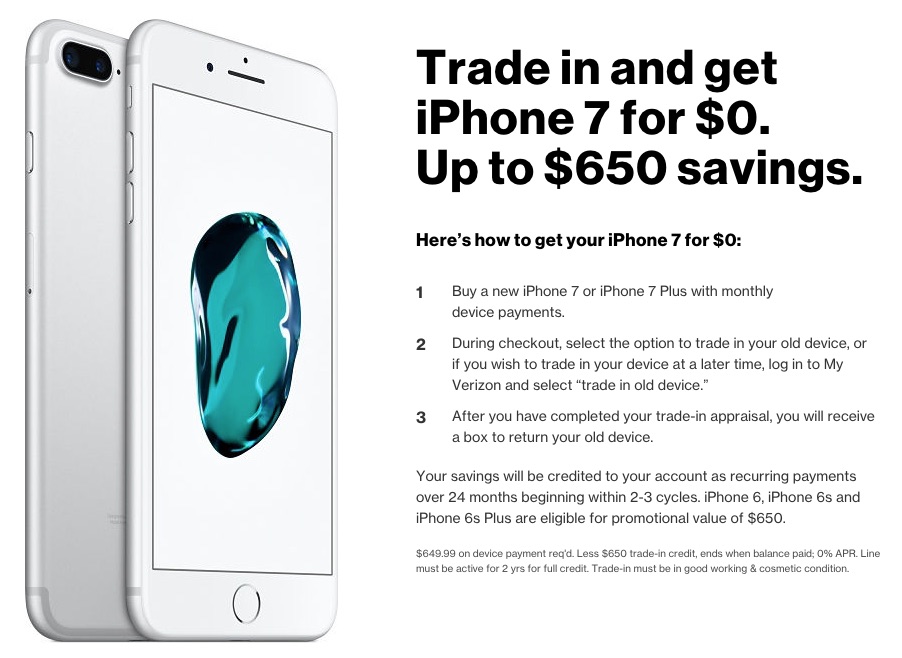 Verizon
Verizon's deal offers a $650 trade-in credit for qualifying iPhone 6, 6s, 6 Plus, and 6s Plus handsets. That credit will appear as a credit spread across 24 months on your monthly billing. It should take around 2 to 3 billing cycles to show up on your bill. In order to receive the full credit, you're going to need to stick with Verizon for the full 24 months. No matter which iPhone 7 or iPhone 7 Plus model you buy, you'll get the $650 credit, so expect to pay the difference for anything except the base 32GB iPhone 7.
AT&T
AT&T's free iPhone 7 deal is a bit suckier than the other three carriers, as it requires you to port a number over from a competing carrier, AND be a DirecTV subscriber to qualify:
FREE IPHONE 7 32GB OFFER: Limited time (ends September 15, 2016, in Puerto Rico). Void in Connecticut, Rhode Island, and Miami-Dade. Port-in: From eligible carriers (excludes Cricket and select others) only. Must buy eligible device within 7 days of port. Eligible Device: New iPhone 7 and 7 Plus on 0% APR AT&T Next (30-month) or AT&T Next Every Year (24-month) installment agreement. Retail price is divided into monthly installments. Tax on full retail price due at sale. After all credits, get iPhone 7 32GB priced $650 ($21.67 or $27.09 per month) for free. May apply max credit towards other eligible devices priced up to $970, which will be discounted but not free. Wireless: Monthly postpaid voice and data required (existing customers can add to eligible current plans). DIRECTV: Excludes streaming only services. If new customer, 24-month agreement required. Must be installed within 30 days of device activation. Bill Credit:Credit applied in equal amounts towards installment payments over entire agreement term. Both services must remain active and in good standing and device must remain on its agreement for entire term to get all its credits (if you cancel wireless service, you will owe remaining installment balance of up to $970). If upgrade or pay up/off agreement early, your credits may cease. Offer Limits: 1 per wireless account; 2 wireless accounts per TV account. Return: Restocking fee up to $45 may apply. See store or att.com/TVAppleoffer for offer details.

GENERAL WIRELESS SERVICE: Subject to Wireless Customer Agreement (att.com/wca). Deposit: May apply. Device Limits: Purchase limits apply. Credit approval, taxes, fees, monthly, other charges, usage, speed, coverage, and other restrictions apply. Promotion, terms, and restrictions subject to change and may be modified or terminated at any time without notice.

DIRECTV: Subject to Equipment Lease and Customer Agreements (directv.com/legal). Residential customers only. Hardware and programming available separately. Prorated ETF (up to $480) and Equipment Non-Return fees apply. Programming, pricing, terms, and conditions subject to change at any time.
So, now customers at all four of the big wireless carriers are now offering free iPhone 7 deals. Which one is best for you depends on where you live, coverage-wise, and who your carrier is now, data plans, and other variables that depend on your personal situation. Lotta strands here, man.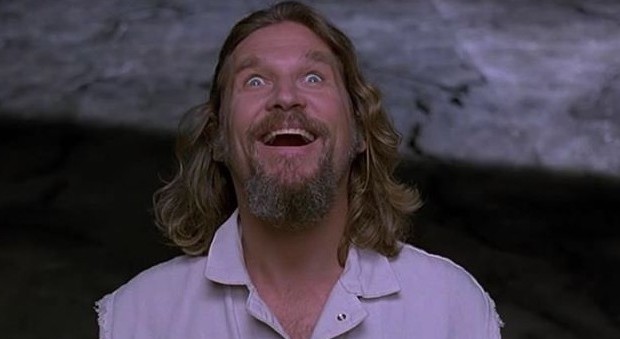 "This is a very complicated case, Maude. You know, a lotta ins, a lotta outs, a lotta what-have-yous. And, uh, a lotta strands to keep in my head, man. Lotta strands in old Duder's head. Fortunately, I'm adhering to a pretty strict, uh, drug regimen to keep my mind, you know, uh, limber."
(Via 9to5Mac)
UPDATE: An AT&T rep contacted us and informed us of a free iPhone 7 deal that DOESN'T require being a DirecTV customer:
Trade in iPhone 6 or 6s, get iPhone 7 for free

For a limited time, customers can also trade in an iPhone 6, iPhone 6 Plus, iPhone 6S, or iPhone 6S Plus that's in good working condition and they can get an iPhone 7 32 GB free after $650 in monthly bill credits when they buy it on AT&T Next or AT&T Next Every Year with eligible service. To take advantage of this offer customers just need to own their current iPhone outright, or pay for the remainder of their remaining balance.   Here are the details:

Must purchase an iPhone 7 or 7+ on AT&T Next or AT&T Next Every Year
Must trade-in a good working condition iPhone 6, iPhone 6 Plus, iPhone 6s or iPhone 6s Plus
Must own device outright.
Current AT&T Next customers must pay-up in full. If they don't, they'll be charged the remaining balance
In-contract, 2-year subsidized device customers must pay off remaining ETF.
For more information, visit the AT&T website.