The 2016 Mac Freebie Bundle offers 8 great Mac productivity apps for free! These will help you organize your photos and videos, streamline your workflow, and much more! And did we mention they were free?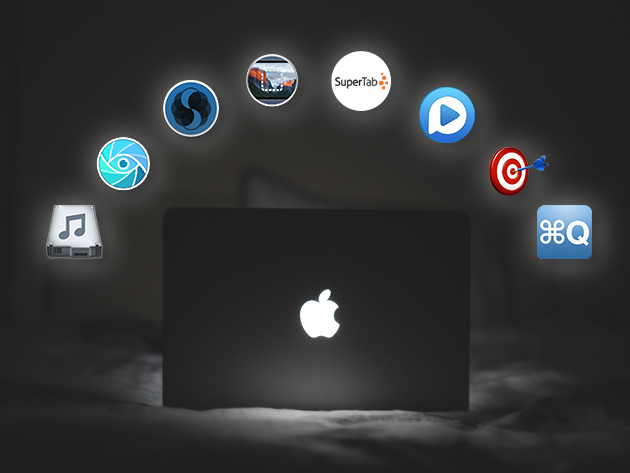 2016 Mac Freebie Bundle: These 8 Free Mac Apps Will Streamline Your Workflow, Organize Your Photos, Videos, & Music, & Much More!
CommandQ
Never Accidentally Quit an App Again
When you're working fast, checking off the to-do list, it's easy to accidentally hit ⌘Q instead of ⌘W and close an entire app. CommandQ stops you from making that mistake by requiring you to hold down ⌘Q for a short delay, so you can catch your mistake before you make it. It's the little things that keep your productivity humming.
Configurable delay to let you choose how long you need to hold down ⌘Q
Works w/ all of your apps, or only w/ the ones you specify
Export for iTunes
Put Your iTunes Library on Any Device
You can bring your iTunes library with you everywhere when you use Export for iTunes! Export for iTunes lets you export your playlists and albums from iTunes to any local folder, external storage, SD card, or USB drive. It will even convert aac/m4a files to mp3 for the best compatibility with most sound systems.
Convert, copy, & organize playlist & album music files into folders
Browse & select which of your playlists or albums you want to export
See all playlist & album tracks w/ their metadata w/o opening the iTunes app
Export the track list from any album or playlist to Excel so you can track all the info of your iTunes music
2016 Mac Freebie Bundle: These 8 Free Mac Apps Will Streamline Your Workflow, Organize Your Photos, Videos, & Music, & Much More!
UnDistracted
Clear Your Desktop of Distractions to Focus On the Task at Hand
Desktops have a nasty habit of drawing your eyes away from the task at hand. With UnDistracted, however, you won't need to worry about that. The app lets you perform specific actions, like darkening unused background windows, hiding all the files on your desktop, or making the Dock and menu bar disappear for a truly zen-like environment.
Instantly hides all files, folders & app icons on your desktop
Shadows all windows except the active one
Hides Dock & menu-bar, or activates the Dark theme for them
Do Not Disturb Mode puts the same status message on Skype & Adium
SuperTab SE 1.4
Access Your Entire Mac, Not Just Your Active Apps, Using the Command-Tab Function
The Command-Tab function is one of the easiest ways to switch between apps while working on your Mac. However, this function only gives you access to currently active apps. With SuperTab, you can easily access a far greater degree of your Mac, such as recent apps, recent documents, dock items, folder contents, application windows, Dropbox items, clipboards, web site shortcuts, and much more. Your Mac will be much easier to navigate with SuperTab.
Configure any application to automatically open itself when you need it
Automatically hide or quit applications after they have been in the background or idle for a user-selected period
Assign custom hot keys to any file, folder, or app
Preview text, image, & PDF file contents directly within SuperTab
Drill into folder to access virtually any file or folder w/ ease
2016 Mac Freebie Bundle: These 8 Free Mac Apps Will Streamline Your Workflow, Organize Your Photos, Videos, & Music, & Much More!
Screenie
Revolutionize the Way You Work With Images With Screenie's Efficient Menubar Icon
Working with images on Mac can be a frustrating process of bouncing back and forth between Finder and the windows you're working in. Screenie, however, streamlines the process by adding a simple icon to your menubar. Just take a screenshot, and you can instantly drag it from the icon directly to where you need it in no time at all.
Streamline your workflow by dragging & dropping images, straight from the menubar
Access any of your images fast & easy
Change where your screenshots are saved for quick organization
Save screenshot file types as PSD, JPG, & more
Filter & search images more effectively
Total Video Player for Mac
Play Any Media File, Even HD, Seamlessly with Total Video Player
The video watching experience is about to completely change for Mac users. Total Video Player for Mac supports all video and audio formats, and allows you to pull your video library together in one simple interface. Got a lot of HD files? No problem, Total Video Player thrives on HD media!
Fully compatible w/ all media formats
Supports 4K ultra HD & vivid 1080p HD video
Subtitle features allow you to edit subtitle's font, text color & text size
Professional playlists let you order, shuffle & loop play all media files
Plays incomplete or corrupted video
2016 Mac Freebie Bundle: These 8 Free Mac Apps Will Streamline Your Workflow, Organize Your Photos, Videos, & Music, & Much More!
iFotosoft Photo Viewer
The Quickest Way to View Your Photos Is Also the Simplest
Sometimes you just want to actually look at your photos, not spend a bunch of time fiddling around editing features. iFotosoft Photo Viewer makes it as easy as a click to access all photos within a folder and sub-folder. From there, you've got a range of viewing options, from thumbnails to slideshows. Put your photos on display the right way with iFotosoft Photo Viewer.
Customize photo viewing windows quickly & easily
Browse photos across different folders in Library Mode
Add favorite photos to slideshow or upload to iPhoto w/ ease
Use basic touch up features to rotate, flip, zoom, crop or delete photos
Connect Flickr, Facebook & Twitter accounts to share photos online
Convert RAW formats or other photo files to JPEG, JPEG-2000, PNG, TIFF & Microsoft BMP
SQLPro for Postgres
A Simple, Powerful Postgres Manager for Mac Users
Work with SQL more efficiently, thanks to SQLPro for Postgres, the intuitive, powerful manager that makes the most basic PostgresSQL database needs easily accessible. Use a range of simple tools from multi-cell selection to auto-complete and syntax highlighting to streamline your workflow.
Use the best basic tools like table creation, custom queries, auto-complete, syntax highlighting, & more
Execute multiple queries & have the results for each display simultaneously
Work w/ results using single or multi cell selection
2016 Mac Freebie Bundle: These 8 Free Mac Apps Will Streamline Your Workflow, Organize Your Photos, Videos, & Music, & Much More!