The battle for users continues at a feverish pace in the wireless industry, as AT&T this week launched a new promotion that offers DirecTV and Next wireless customers a free iPhone 7 or $0.99 iPad when you purchase an iPhone 7.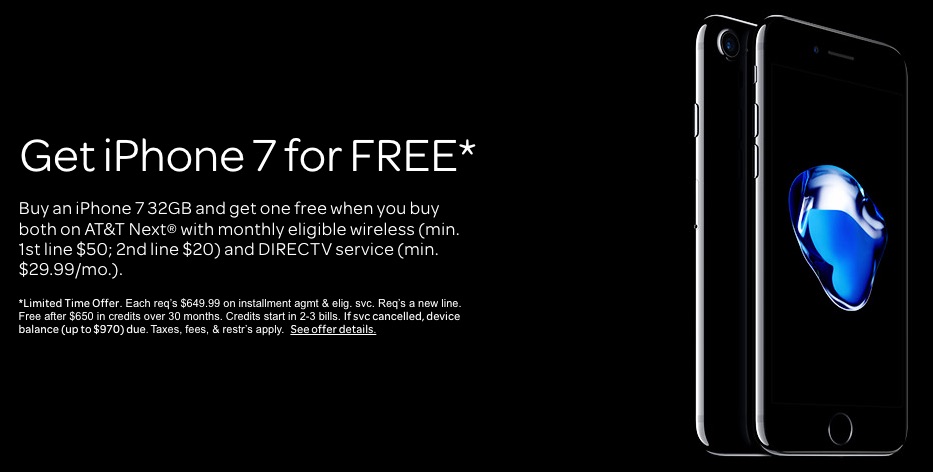 The buy one, get one free iPhone 7 promotion nets customers $650, minus $25 activation fee, in credit when both iPhones are purchased on the same AT&T Next account with associated DirecTV service. According to the fine print, the credit can be applied to cover the cost of a new 32GB iPhone 7. Alternatively, the $650 can be put toward the discount of any qualifying device priced up to $970.
A monthly postpaid voice/data plan is required for both iPhones. New customers will be required to agree to a 24-month contract. Current Next customers can add the iPhone 7 to an existing plan. AT&T hasn't announced an end date for the promotion, other than it is available for "a limited time."
More information about the BOGO iPhone 7 deal can be found on the AT&T website.
AT&T's free iPad promotion goes like this: Existing Next customers who buy an iPhone and switch to DirecTV can get a free 32GB 9.7-inch iPad. Eligible devices include the iPhone SE, iPhone 6, iPhone 6 Plus, iPhone 6S, iPhone 6S Plus, iPhone 7 or iPhone 7 Plus. Users must add the new device to their wireless plan and purchase the iPad with a two-year service agreement.
New AT&T customers can purchase an iPhone 7 with the Next plan, signup for DirecTV and get the iPad for $0.99.
All hardware is paid for upfront, and customers will then receive a credit for the cost of the device in two to three billing cycles. Customers can also opt for a 128GB iPad for $99, after the credits are applied. The iPad deal runs through August 31.
More information on the iPad deal is available on the AT&T website.