Fast Company on Tuesday published its annual "World's Most Innovative Companies" rankings. Apple sits atop the 2018 rankings, "for delivering the future today."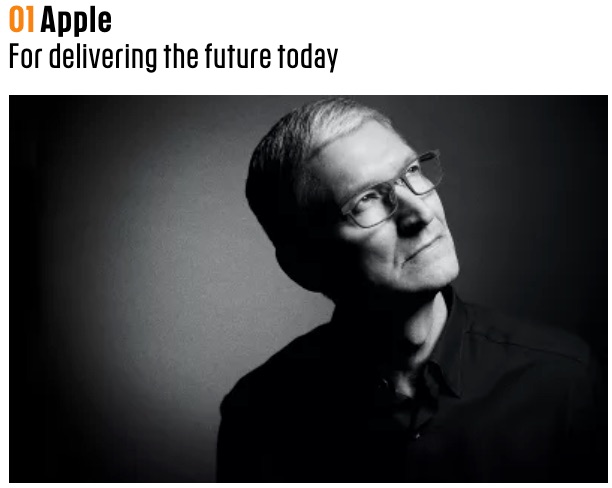 Apple was named to most innovative company due to its accomplishments over the last year, which include the iPhone X, Air Pods, Apple Watch 3, and HomePod.
The only things more impressive than Apple's financial numbers are the products that generated them. For a company routinely slagged for not having had a hit since 2010's iPad, Apple, which as of mid-January was valued at more than $900 billion, had a heckuva 2017: Its wireless AirPods became ubiquitous from Brooklyn to Boise, and can now be paired with the best-selling Apple Watch Series 3, which has GPS and cellular connectivity, for a meaningful, new consumer experience. Developers embraced ARKit, Apple's augmented-reality framework, like nothing since 2008's App Store (which paid out $26.5 billion last year). After a year of whining about what the new iPhone might offer, most skeptics were blown away by the iPhone X, with its facial recognition, camera quality, bezel-to-bezel screen, and new user interface. Now, HomePod, first announced last June, offers a fresh take on the intelligent speaker.
Fast Company also published an interview with Apple CEO Tim Cook, in which he explains how it is decided what Apple is going to spend its time on, and which things are distractions.
"There is more noise in the world than change. One of my roles is to try to block the noise from the people who are really doing the work. That's tougher and tougher in this environment. The priorities are about saying no to a bunch of great ideas. We can do more things than we used to do because we're a bit bigger. But in the scheme of things versus our revenue, we're doing very few things. I mean, you could put every product we're making on this table, to put it in perspective. I doubt anybody that is anywhere near our revenue could say that.

"You have to make sure that you're focused on the thing that matters. And we do that fair­­ly well. I worked at a company a while back, many years ago, where every hallway you go in, you would see their stock price being monitored. You will not find that here. And not because you can get it on your iPhone."
The publication created their 2018 company rankings by surveying thousands of companies to identify their most notable innovations for the year, and trace their impact on businesses, industries, and the larger culture.
In addition to Apple other top 10 companies on the list include Netflix, Square, Tencent, Amazon, Patagonia, CVS Health, The Washington Post, Spotify, and the NBA.