Amazon on Tuesday updated its Alexa app for iOS to add a long-promised voice control feature that allows iOS users to tap an Amazon Alexa button and use voice commands to check the weather, turn lights off an on, check the traffic for your daily commute, and more.
Note: You'll need an actual Amazon Echo device to control smart home functions, such as turning on lights.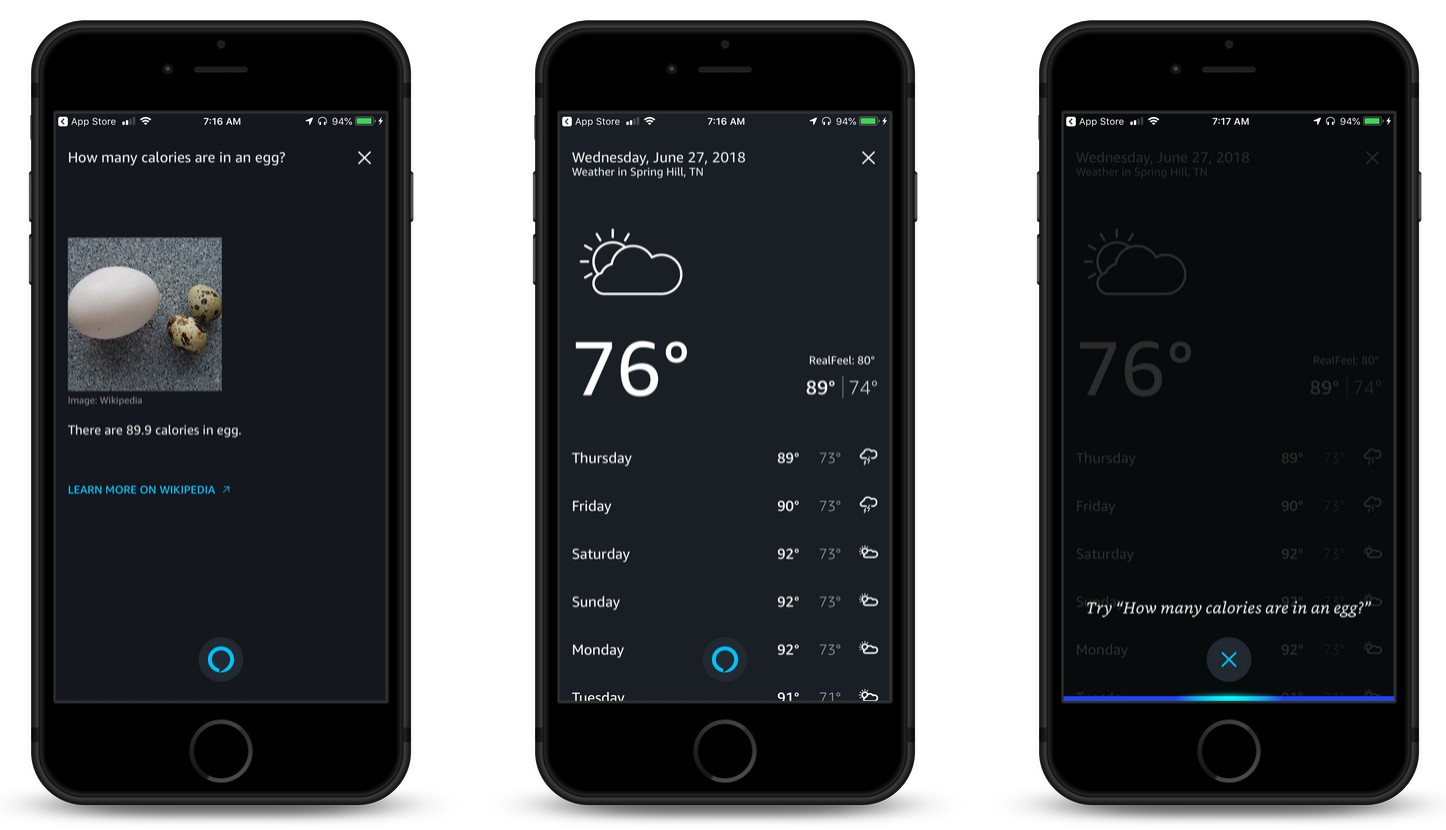 What's New

• Tap the Alexa button and use your voice to ask Alexa to play music, answer questions, check weather, and more.
• Various bug fixes and performance improvements.<
Amazon first introduced app voice control for Alexa in its Android app back in January. At the time, the company promised the feature would also be added to the iOS app "soon." So take note, Amazon's definition of "soon" is six months.
Other Features of the app include:

ALWAYS READY, CONNECTED, AND FAST
For Alexa device owners, the free Amazon Alexa App is a companion to your Alexa device for setup, remote control, and enhanced features. Alexa is always ready to play your favorite music, provide weather and news updates, answer questions, create lists, and much more. Alexa's brain is in the cloud, so she continually learns and adds more functionality over time. The more you use Alexa, the more she adapts to your voice, vocabulary, and personal preferences.

A NEW WAY TO USE SMART DEVICES
With Smart Home, control or check status of your smart lights at home and on-the go. Create groups of smart lights and control all the lights in a room with a single command. Automate your smart home with custom Routines – with one command you can wake up with your Flash Briefing, turn on the lights, and get the coffee brewing by turning on your smart plug. 

CONNECT WITH FAMILY AND FRIENDS 
With the Alexa App, you can call and message Amazon Echo device owners and anyone with the Alexa App on their phone. When you're away from home, use the app to make a quick call or send a message to your family's Echo. Use Drop In to instantly connect with your Alexa devices to a call home or to let the family know it's time for dinner.

MUSIC EVERYWHERE
Stream all of your music, listen to radio stations, and have access to news and information, all by voice — or with the Amazon Alexa App. Create groups of devices on the same Wi-Fi network to surround yourself with Music.

HOW IT WORKS
Interactions with devices with Alexa are automatically mirrored visually on your Amazon Alexa App, providing more information as you want it. The Amazon Alexa App lets you easily manage your alarms, music, shopping lists, and more — wherever you are.

FAST WI-FI and EASY SET UP
Connect to your home's Wi-Fi network using the free Amazon Alexa App, with its simple guided setup. Now you can stream all of your music, listen to radio stations, and have access to news and information, all by voice — or with the Amazon Alexa App's intuitive interface.
Some features are not available in all locations, for example, Alexa calling and messaging, Smart Home controls, and Music.
The app lacks native functionality, so you'll need to push the in-app Alexa button to activate the virtual assistant in place of simply saying the "Alexa" trigger word.
If you haven't as yet seen the new feature, be patient. Amazon says the new voice control feature will roll out to iOS devices over the coming days.
If you don't already have the Amazon Alexa app on your iOS device, it can be downloaded from the App Store. [GET IT HERE]