Apple on Monday announced the release of macOS 10.14 Mojave to the public. The latest version of the desktop operating system, is available as a free software update for Mac users.
macOS Mojave brings a number of new features to the Mac, including the much-anticipated Dark Mode which transforms the desktop with a dramatic dark color scheme. Also making the trip is a new Dynamic Desktop with a series of time-shifting images to match the time of day.
Stacks cleans up messy desktops by automatically organizing files into neat groups. Familiar iOS apps, including News, Stocks, Voice Memos and Home have made the move over to macOS, and a redesigned Mac App Store makes finding the right Mac apps easier than ever.
Dark Mode
macOS Mojave provides the ability for users to transform their desktop to a darkened color scheme, placing more emphasis on user content, while pushing controls into the background. users will be able to toggle between a light and dark desktop, and Apple apps such as Mail, Messages, Maps, Calendar and Photos all include Dark Mode compatibility.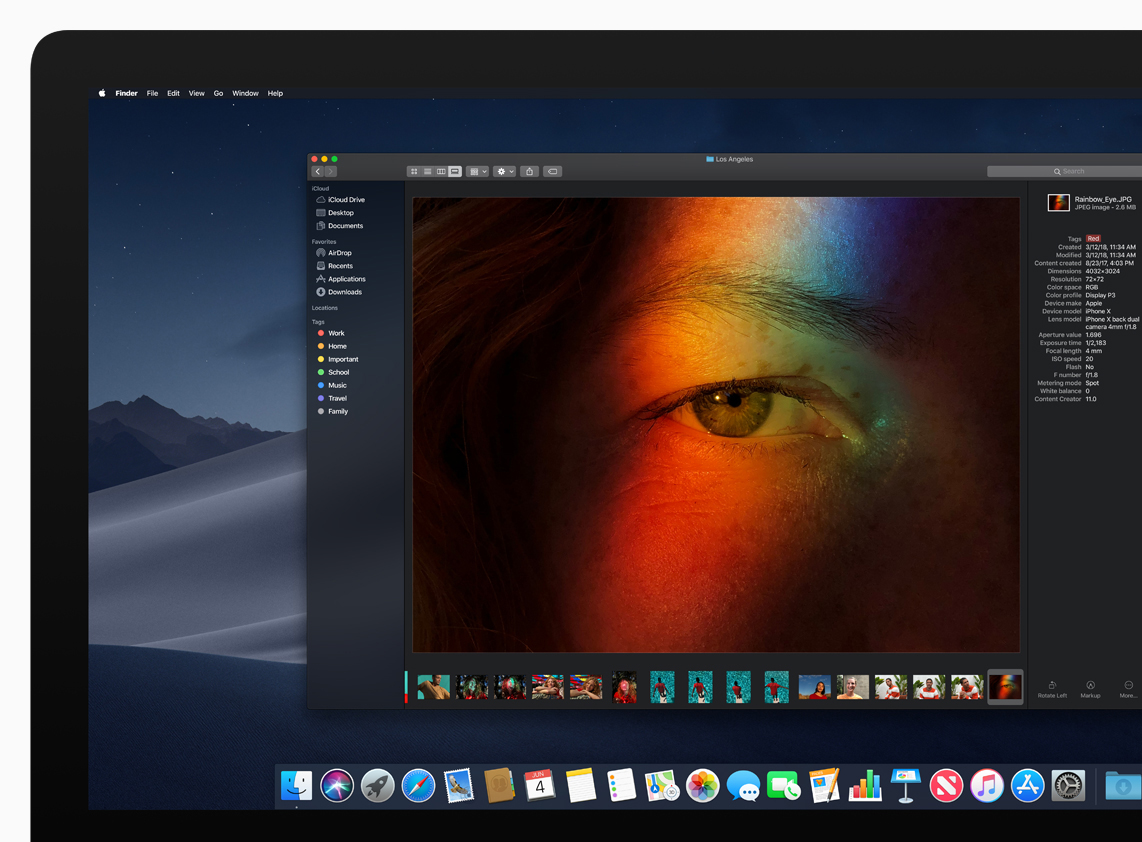 A new Dynamic Desktop feature automatically changes the desktop wallpaper to match the time of day. An API is available that allow developers to include Dark Mode in their apps.
Desktop and Finder (Stacks)
"Stacks" automatically stacks desktop files into neat groups, all based on file type. Stacks can be customized to sort based on file attributes like dates and tags.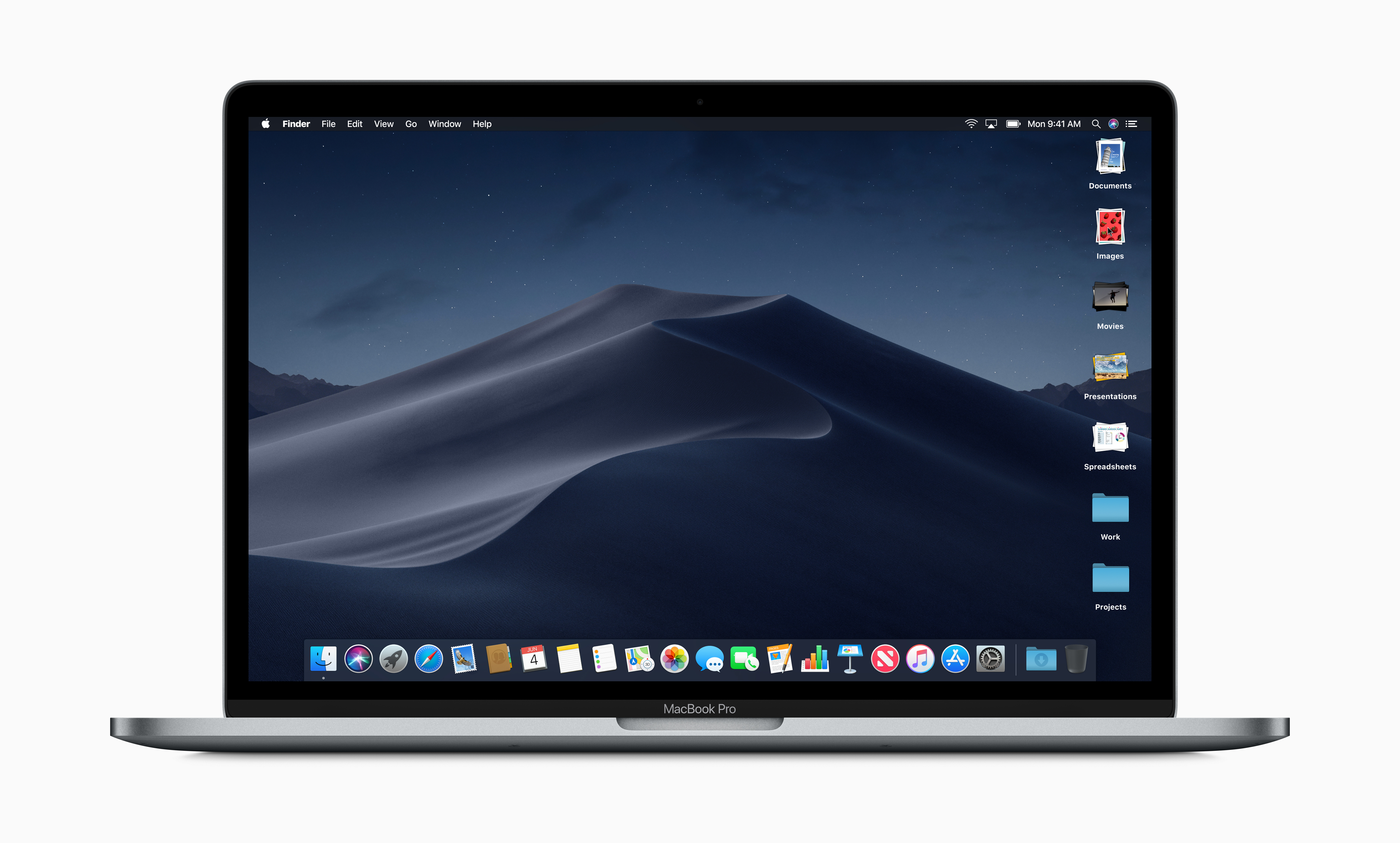 Finder includes a new Gallery View that allows users to quickly skim through files visually. The Preview Pane shows all of a file's metadata, making for easier media assets management.
Quick Actions allow users to create and password-protects PDFs and run custom Automator Actions on files right from Finder. Quick Look offers a full-size preview of a file, allowing users to rotate and crop images, mark up PDFs, and trim media clips without needing to open an app.
News, Stocks, Voice Memos and Home
macOS versions of popular iOS apps News, Stocks, Voice Memos and Home are debuting in macOS Mojave. Users can read news stories, control HomeKit-enabled accessories, create voice memos, read stock-related news, and more, just like they have on iOS.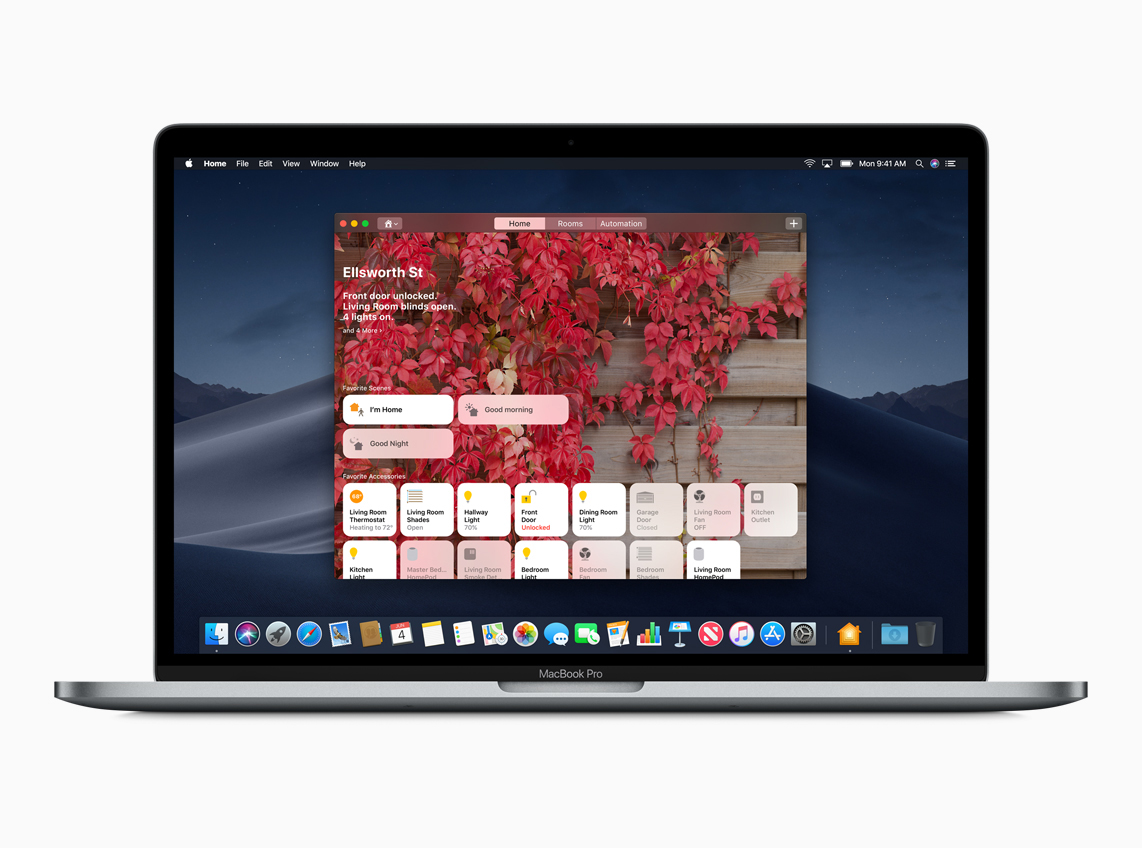 Group FaceTime
macOS Mojave users will be able to join in Group FaceTime sessions with iOS and Apple Watch users when the feature becomes available across all three platforms later this year. Up to 32 people can join in a conversation.
New Mac App Store
The Mac App Store got a complete revamp in macOS Mojave which highlights new and updated apps in the Discover tab, while tabs for Create, Work, Play and Develop help users find apps for a specific project or purpose.
Other New Features
Screenshots deliver new on-screen controls for easy access to every screenshot option and new video recording capabilities. A streamlined workflow enables easy screenshot sharing without cluttering the desktop.
Continuity Camera allows Mac users to take a picture or scan a document nearby with their iPhone or iPad and have it appear instantly on their Mac.
Markup tools are now integrated into Finder, Quick Look and Screenshots, making it fast and efficient to add comments to content and share with others.
macOS Mojave is available today as a free software update for Macs introduced mid-2012 or later, plus 2010 and 2012 Mac Pro models with recommended Metal-capable graphics cards.
Macs that can run Mojave include: 
MacBook (Early 2015 or newer)
MacBook Air (Mid 2012 or newer)
MacBook Pro (Mid 2012 or newer)
Mac mini (Late 2012 or newer)
iMac (Late 2012 or newer)
iMac Pro (2017)
Mac Pro (Late 2013, plus mid 2010 and mid 2012 models with recommended Metal-capable GPU)
macOS Mojave is available as a download from the Mac App Store.