Apple has updated Apple Maps to include new indoor maps for over 20 airports and shopping malls across the United States, Denmark, Hong Kong, and Singapore.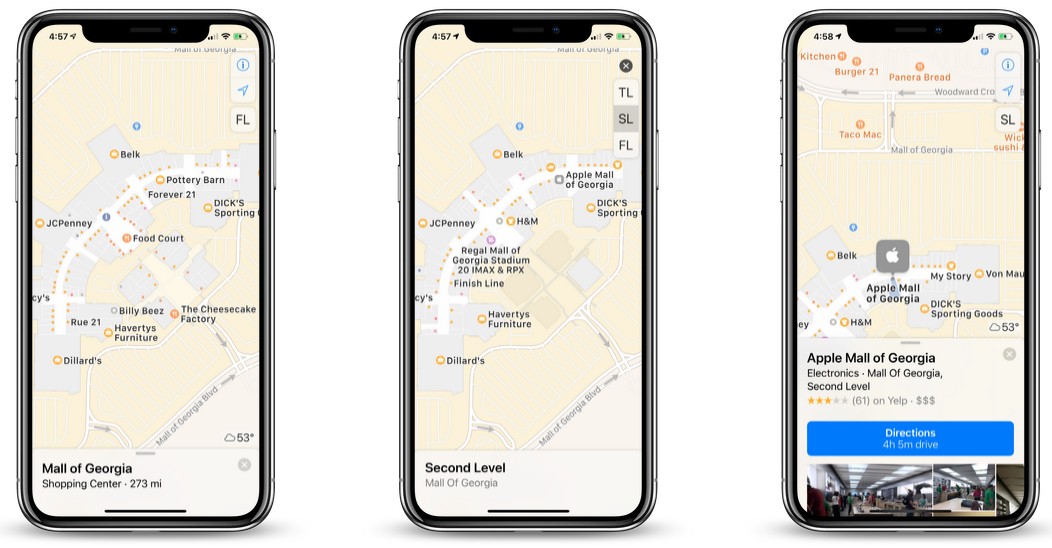 Newly locations include:
Lenox Square in the Atlanta, GA
Phipps Plaza in the Atlanta, GA
Perimeter Mall in Atlanta, GA
Cumberland Mall in Atlanta, GA
North Point Mall in Alpharetta, GA
Mall of Georgia in Buford, GA
The Shoppes at River Crossing in Macon, GA
Oglethorpe Mall in Savannah, GA
Peachtree Mall in Columbus, GA
Mall St. Matthews in Louisville, KY
Oxmoor Center in Louisville, KY
Towne Mall in Elizabethtown, KY
Florence Mall in Florence, KY
Greenwood Mall in Bowling Green, KY
Eaton Centre in Toronto, Canada
Anchorpoint in Singapore
Harbour City in Hong Kong
IFC Mall in Hong Kong
Pacific Place in Hong Kong
Times Square in Hong Kong
Sky Harbor International Airport in Phoenix, AZ
Copenhagen Airport in Denmark
To view any of the maps, simply open the Apple Maps app on a device running iOS 11 or later, search for the facility, zoom in, and tap on "Look Inside."
The indoor maps allow users to find the exact locations of stores, restaurants, and most importantly, restrooms. Users can scroll around, or swipe up on the place card to browse by category.
Airport maps work the same, providing a quick look at the locations of terminals, boarding gates, security checkpoints, airline check-in desks, baggage claim carousels, and much more.
The full list of malls and shopping centers supported in the app is available on Apple.com.
(Via MacRumors)