The Ultimate YouTube Master Class Bundle will teach you to build your brand and make money on YouTube.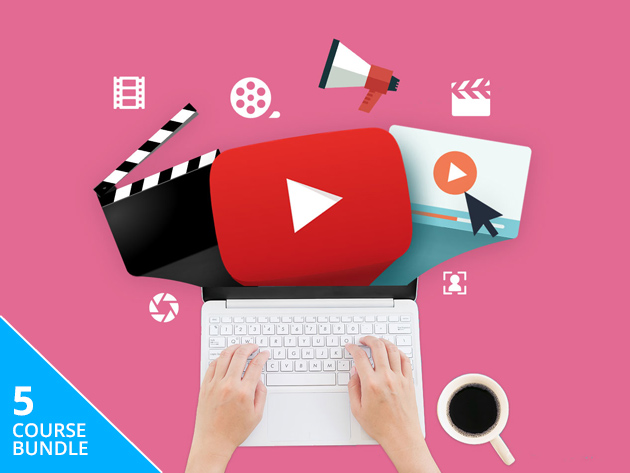 Ultimate YouTube Master Class Bundle: Build Your Brand & Make Money on One of Today's Most Important Mediums with 28 Hours of Training – (Get an extra 15% off with promo code: MERRY15)
YouTube Marketing
Learn How to Start a YouTube Channel & Grow Your Business
In this YouTube Marketing course, you'll learn everything you need to build a YouTube channel and start monetizing it fast. Whether you run your own business, are helping someone else's business, or want to learn an in-demand skill that help get you hired, this is the perfect course for you. With modern Youtube marketing techniques, you can find new customers, boost your conversions, and increase your revenue. You just need to know where to start.
Access 4.5 hours of content 24/7
Learn 6 ways to create a marketing funnel w/ YouTube
Optimize your YouTube channel & videos for views and conversions
Create YouTube ads to promote your brand
Retarget your own website visitors w/ your YouTube ads
Discover how to do YouTube keyword research
Grow your channel w/ YouTube analytics
Vlogging: Learn YouTube Secrets To Become A Success
Create Your Own YouTube Channel & Become a Successful Vlogger
The video blog (vlog) is all the rage these days, especially among young people. In this course, you'll cover vlogging topics relevant to fashion, lifestyle, beauty, and travel, and take a realistic look at how to build a YouTube channel on a budget with absolutely no technical knowledge. If you want to start a side hustle or go fully independent as a vlogger, this course is for you.
Access 2 hours of content 24/7
Know which cameras, lenses, lighting, & equipment can help you on your vlogging journey
Master creating an engaging & creative YouTube video
Perform beautiful video editing that keeps viewers coming back
Get connected to a worldwide community of brands, vloggers & readers
Understand SEO & YouTube Tags and know how to rapidly improve your viewing stats
Design, build & update your own Channel Page from scratch
How To Start A YouTube Channel
Build Your Online Brand By Launching a YouTube Channel
Make this the year you take advantage of one of today's most booming online mediums. This course is a complete step-by-step guide to start a YouTube channel on a topic you're passionate about. Starting a YouTube channel may seem like a technical challenge but with the right guidance, it's not tough! Your journey starts here.
Access 5.5 hours of content 24/7
Set up your YouTube channel w/ an eye-catching banner that suits your brand
Create your own inexpensive filming studio at home
Map out a publishing schedule for releasing videos on a consistent & frequent basis
Rank your YouTube videos on the first page of search results & get more views and subscribers
Video Production Bootcamp
Cover Shooting Techniques, Editing, Marketing & More in This Wall-to-Wall Bootcamp
Whether you're filming on a point-and-shoot, DSLR, or just your smartphone, you can start shooting professional videos with the expert techniques inside this comprehensive bootcamp. This training takes a wall-to-wall look at all things video production—from generating great video ideas to distributing them to your audience. Jump in, and you'll learn from downloadable guides and case studies that break down real-world film projects. You'll take a look at ideal equipment to buy, techniques for getting better shots, and much more as you make your way through the training.
Access 13 sections & 9 hours of content 24/7
Learn how to create professional videos w/ the equipment you already have
Explore making your own videos from conception & production to editing and posting online
Access downloadable guides to help you w/ every section
Dive into recording better audio w/ a variety of microphones
Learn how to set up basic video lights, including using natural lighting for your videos
Familiarize yourself w/ video editing
YouTube Master Class
Your Complete Guide to YouTube Success
There are many motivations for starting a YouTube channel, and regardless of what yours are, this is the course for you. Through this course, you'll learn how to start a YouTube channel from scratch and build its brand, regardless of your experience shooting video. What's more, you'll learn how to monetize your channel so you can establish a passive income stream. More money sounds good, right?
Access 7 hours of content 24/7
Start a channel from scratch
Get views w/o subscribers, & turn viewers into subscribers
Create videos on a budget
Navigate the YouTube platform & become a YouTube Partner
Post & optimize your videos w/ great titles, descriptions, tags & thumbnails
Grow your brand through YouTube videos
Improve your channel by using analytics
Make money w/ ads, products & services, sponsors & crowdfunding
Ultimate YouTube Master Class Bundle: Build Your Brand & Make Money on One of Today's Most Important Mediums with 28 Hours of Training – Just $XX.XX (Get an extra 15% off with promo code: MERRY15)