iFixit has gotten their hands on a model of Apple's 2019 MacBook Pro, which were a surprise release earlier this week, and has performed that teardown voodoo that they do, so well.
They took a close look at the "new materials" the Cupertino firm added to the keyboard that are designed to reduce issues with keyboards on previous models, thich included sticky and repeating keys.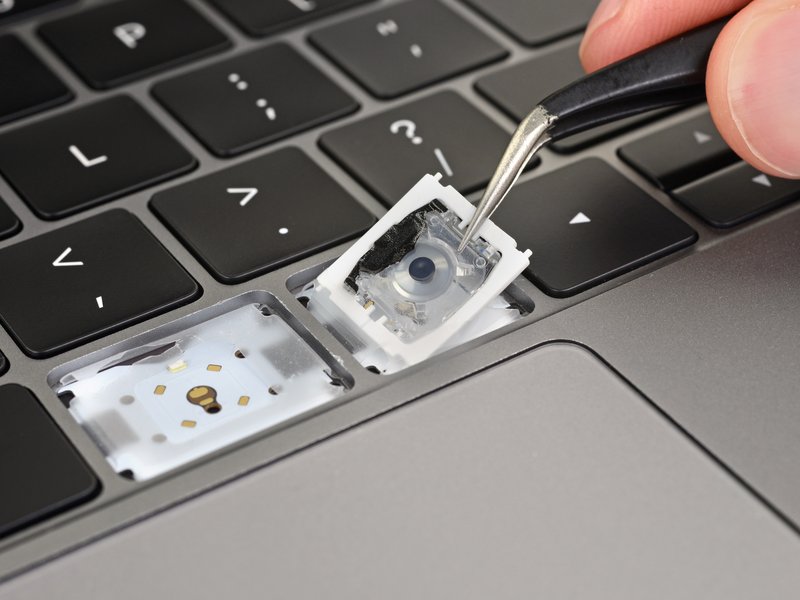 The iFixit folks found that a "subtle change" has been made to the silicone membrane covering the keyboard switches.
The cover in the 2018 model is semi-opaque, somewhat tacky, and feels like silicone. The new model is clearer and smooth to the touch.
Based on infrared analysis, it seems the 2018 membrane was made with polyacetylene, while the 2019 covers uses polyamide, aka nylon.
The metal dome over each key switch is "subtly different" as well. "It could be a new surface treatment, and/or a tweaked alloy, possibly to alleviate problems with durability, bounce-back, or other issues," says iFixit.
Other than the keyboard, the rest of the 2019 MacBook Pro upgrade was a spec bump, and again earns iFixit's lowest repairability score, as most important components, such as the CPU, RAM, and flash storage, all remain soldered to the logic board. The Keyboard, battery, speakers, and Touch Bar are all glued in.
For all of the 2019 MacBook teardown action, visit the iFixit website.