Nearly a quarter of U.S. Apple customers own an Apple TV, says new data shared by Consumer Intelligence Research Partners (CIRP).
Cult of Mac, reports the survey asked U.S. Apple customers which devices they own, and ‌Apple TV‌ came out on top of the "Other Products" category. The set-top box outranked Apple's "Other Products" such as AirPods and the Apple Watch.
"‌Apple TV‌ is the most popular of the gadgets among the Other Products, with about one-quarter of current customers owning one," said Mike Levin, CIRP partner and co-founder. "‌Apple TV‌ has been around for many years, so we're not surprised that it has achieved this penetration."
The Apple Watch ranked second in the Other Products category, with around 20% of Apple customers owning the wearable. Less than 10% of respondents reported owning a pair of AirPods.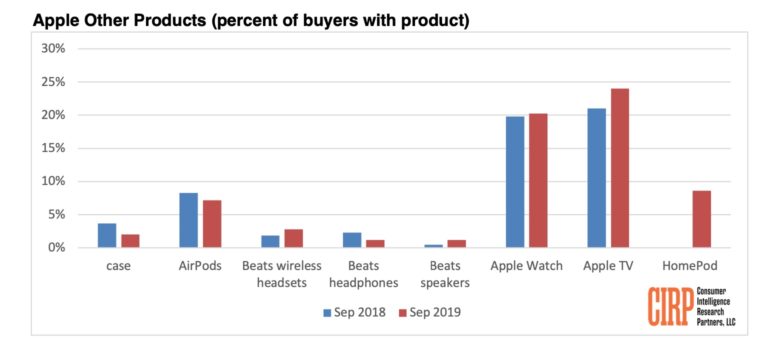 The survey isn't an indicator of new sales of the Apple TV, but instead measures the devices in use as of September 2019, no matter when they were purchased.
These numbers are a promising indicator for Apple TV+, the Cupertino company's new streaming television service, which launched on November 1. The service is available to $4.99 per month subscribers in the Apple TV app on the set-top box. It is also available on iOS and Mac devices via the TV app, and on select Samsung TVs, as well as Roku and Amazon Fire TV devices.
The survey also showed that Apple's HomePod smart speaker "trails both Amazon Echo and Google Home, even among Apple customers," said Levin. Apple cut the price of the HomePod by $50 in April, bringing the price down to $299.
The CIRP findings are from a survey of 500 U.S. Apple customers, surveyed from September 29 to October 10, 2019 that purchased an Apple device in the U.S. in July-September 2019 period.