Apple's share of the worldwide tablet market increased by 6.4% in the calendar fourth quarter of 2019, thanks to strong demand for the company's new 10.2-inch iPad. Those figures come from the latest data compiled by research firm IDC.
The seventh-generation iPad debuted in September 2019, providing a more-affordable entry-level iPad option for consumers and educational institutions. The new iPad accounted for 65% of 15.9 million total iPad shipments during the final quarter of 2019, according to IDC.
The new iPad helped Apple increase its global tablet market share during the holiday quarter up to 36.5%, up from 29.6% in the year-ago quarter. Apple's year-over-year tablet growth was up 22.7% from 12.9 million shipments in Q4 2018.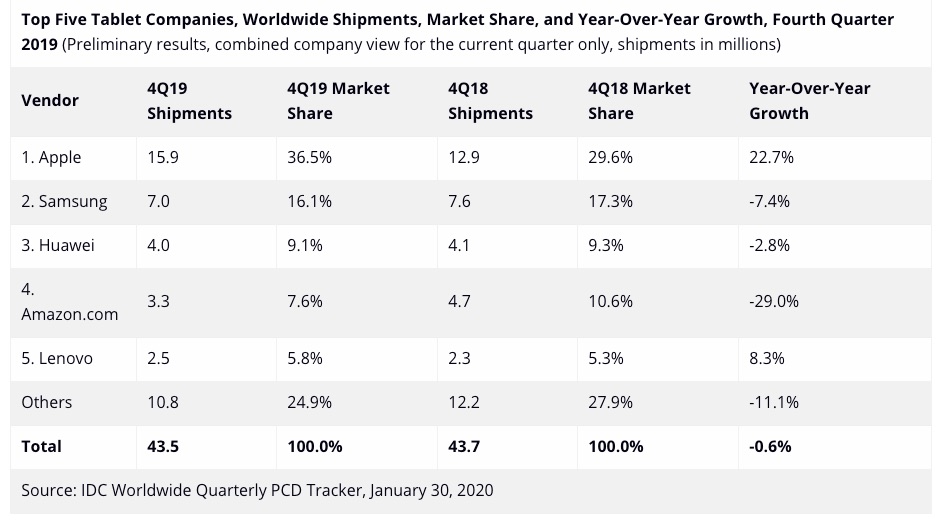 Statistics for all of 2019 are similar, with Apple grabbing 34.6% of the 2019 tablet market, thanks to shipments of 49.9 million iPads, up 15.2% from 29.6% on 43.3 million units shipped in 2018.
While Apple's tablet sales grew, the rest of the worldwide tablet market did not fare as well, declining 0.6% year-over-year during the fourth quarter of 2019, as global shipments fell to 43.5 million units. The tablet market shrank 1.5% for the full year, with global shipments totaling 144 million units, says IDC.
Samsung took the number two spot behind Apple, with 7 million tablets shipped in the fourth quarter, while Huawei and Amazon came in third and fourth, shipping 4 million and 3.3 million units, respectively. Huawei saw their shipments decrease 2.8% year-over-year, while Amazon's shipments fell by 29% during the same period. Amazon was the only brand other than Apple to see growth for all of 2019 (9.9%).
Lenovo filled out the top 5, as it recorded a slight share increase from 5.3% in 4Q 2018 to 5.8% in 4Q 2019. Lenovo's growth declined by 4.2% for the year.