It goes without saying that when 'Pro' is in an app's name, we're sometimes warned off by the prospect of getting lost in the complexities of the software. On the contrary however, FX Photo Studio Pro gives anyone a basis for giving their photos that 'Pro' edge. Think the simplicity of iPhoto with a few essential extras.
Starting the app launches you into the process of editing. It really is as simple as drag, drop and go. Or, you do of course get the option to go through your file system to find that photo you don't have to hand.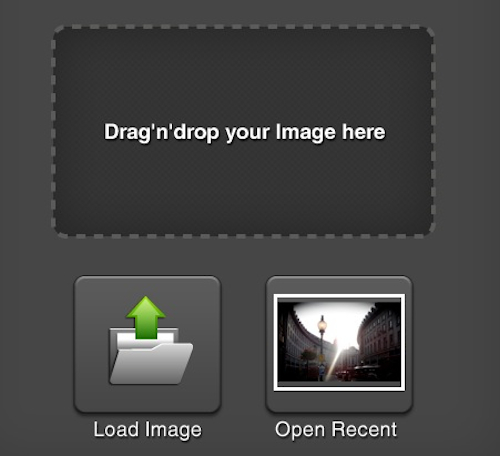 The app's focus is on editing by way of effects, crop, rotate and adjust. You should note here this isn't for you if you're looking to organize your photos. There's an export to iPhoto button if you want to add an edit to your existing library though. The four streamlined tools make life incredibly easy when it comes to giving that pro touch to your photos. You can combine and layer a fantastic collection of159 effects, which really gives you the freedom to experiment without spending hours fiddling with different settings.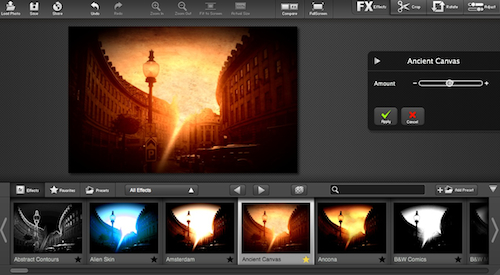 Two of the best effects features are the ability to star your favourite effects as you go through, and a cheeky little die button that simply selects an effect for you; there for that moment when you've run out of your own ideas. I adore the 'old' presents such as 'Old Sketch', 'Old Photo' and 'Ancient Canvas'.

By this point you might be thinking 'So this is just an extension of iPhoto, no skills required,   where are the truly pro editing features?'. To access more refined settings, tap 'Adjust' to look more closely at colour balance, sharpen, denoise, highlights, shadows and more. It's important to note that the app supports an incredible amount of image formats
If you're interested in sharing your masterpiece, FX Photo Studio Pro gives you access to all of the most popular services such as facebook, twitter and flickr. Certainly more there than you'd find in iPhoto.

Verdict
At $39.99, FX Photo Studio Pro could do with a few more advanced features such as overlays and perhaps a few more effects. On the other hand, when you want that upper edge without having to stare into the depths of Photoshop, this could be for you.
Rating: 3.5 out of 5
Buy FX Photo Studio Pro from the Mac App store for $39.99
Pros
159 powerful preset effects
A superb intuitive interface
A great way to give your photos that pro feel
Cons
The $39.99 price is expensive
Would be nice to have more features