Have you ever wandered around the Apple Store (just for fun, of course), only to be constantly impressed by the clear plastic displays turn displayed iPad 2s into digital signage? Me neither. But just in case, now you can buy one of your very own to securely display your iPad 2 in sleek Apple Store fashion.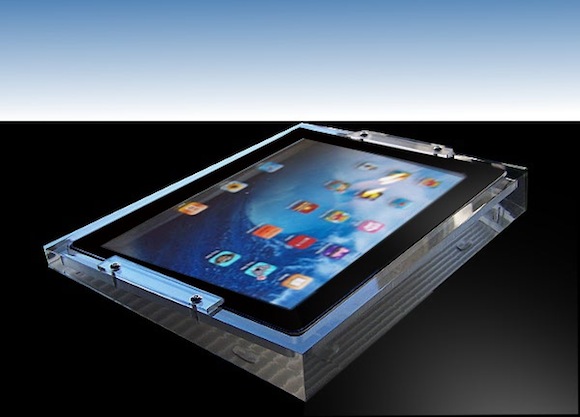 If the light pine desk, Steve Jobs action figure, and exact Playmobil model of an Apple Store sitting in your living room weren't enough for you, here is your chance to buy a plastic display case almost identical to those that currently house iPad 2s at the Apple store.
New PC Gadgets is producing a close replica of these iPad displays, which are made of clear acrylic, and are available starting at $64.95. New PC Gadgets offers several versions – the $65 basic version that does not include an iPhone dock, a $75 version that includes 2 iPhone or iPod docking ports.
New PC Gadgets has also just released a new security base version made from thicker 1 1/4″ clear acrylic that can be securely mounted to a table or desk. This new version is targeted at schools or business that require the ability to secure displayed iPad 2's. The new model is available for 89.95.
For more information, or to purchase an iPad display, visit New PC Gadgets on the web.