The holiday season typically provides a nice boost to developer's app sales, with many iOS developers rushing to put their apps on sale ahead of Apple's annual iTunes Connect freeze, reports MacRumors. iOS developer Brian Duke had the following to say about the phenomena (via NYTimes):
It's typical to see a jump on any major holiday, but Christmas is the biggest one," Mr. Duke said. "I'm certainly hoping for a nice big Christmas bump this year.
This year has proven to be no exception.  TapTapTap, developers of the popular Camera+ app, report that their app sales numbers surged significant during the holiday shutdown, with over four times normal sales numbers.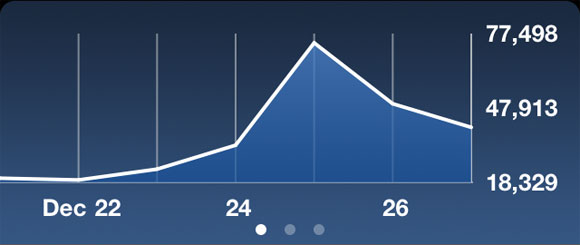 The app also significantly boosted in rank over the holiday season as a result of their $0.99 holiday sale, firmly settling in as the #8 top selling iOS app during the freeze.
The end result of this boost for TapTapTap is a sweet $51,665 in revenue on Christmas Day alone, even after Apple takes their 30% cut. The boost is largely due to the large number of iOS devices gifted during the holiday season, as shown by a massive increase in iOS device activations and app downloads during this time of year.