While supposed iPad 3 parts have popped up in the past, 9to5Mac posts a new piece to the puzzle, claiming to have images of the iPad 3's home buttons, which feature a number of differences compared to the iPad 2.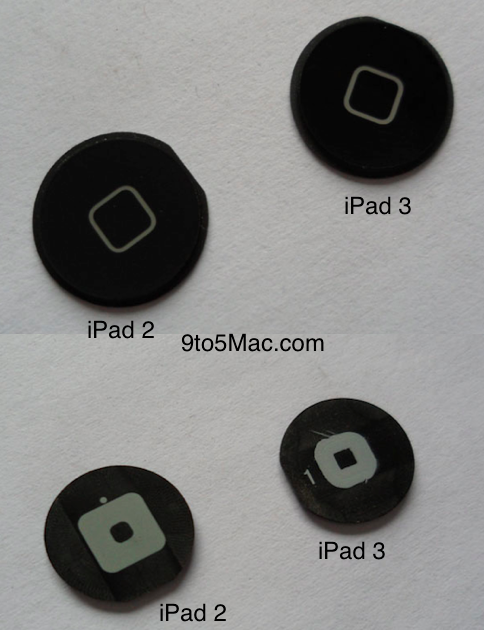 The above image shows the differences which, while relatively minor, does suggest that Apple won't be doing away with the home button as previously rumored, and may also indicate that a gesture-sensitive home button will not be coming to iOS devices in the near future.
As you can see above, the back side of the button is slightly tweaked, although its unclear what, if any conclusion can be drawn from that.
9to5Mac draws the following conclusions:
The iPad 3 will likely come in both black and white-just like the iPad 2-if these iPad 3 home buttons pan out to be the ones used in the final.
The buttons floating around right now-in large quantities-signal that the iPad 3 is either in production or close to the production stage
The iPad 3 will not lose the home button (iOS devices have been rumored to soon be losing the home button).
What's most significant about the report is that iPad 3 parts are continuing to leak out in advance of production and release of the new tablet, widely expected to be launched sometime early next year.
The iPad 3 is likely to feature a new custom "A6" processor developed by Apple, and is also expected to feature a new ultra high resolution Retina display similar to the iPhone 4 and 4S.