Samsung's complaint over a patent declared essential to the 3G/UMTS wireless telecommunications standard was rejected by Judge Andreas Voss of the Mannheim Regional Court. Samsung has four other lawsuits going against Apple in Germany, involving six more patents.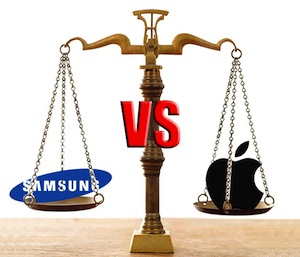 FOSS Patents reports:
The pronouncement did not include the reasoning. While a number of legal grounds are theoretically possible, doubts about the validity of the asserted patent would have resulted in a stay, not a rejection, due to Germany's bifurcated system under which validity issues are addressed in different fora than infringement lawsuits. There are two reasonably likely possibilities: either Apple's products weren't deemed to infringe on the patent in a technical sense or the court believes Samsung's rights are exhausted and Apple has, by extension, a license. If the reason for the rejection was technical non-infringement, Samsung's other assertions of 3G/UMTS patents in Germany could still succeed. However, if the reason was patent exhaustion, all but one of the four remaining Samsung lawsuits in Germany (one over two patents unrelated to 3G, including a smiley input patent) would likely be thrown out as well. While a finding of patent exhaustion can depend on technical details that vary from patent to patent, and from product to product, I haven't seen any indication that the related functionality is implemented by Apple itself as opposed to the baseband chips Apple incorporates into its products.
FOSS continues, "Without access to more information, I can't guarantee (though I strongly believe) that today's ruling related to EP1005726 on a 'turbo encoding/decoding device and method for processing frame data according to QoS'. That one was the first of two patents discussed at a mid-November hearing I watched, and based on my notes, today's ruling was going to adjudicate Samsung's claims concerning that patent. Otherwise this would be about EP1114528 on an 'apparatus and method for controlling a demultiplexer and a multiplexer used for rate matching in a mobile communication system'. Both patents were declared essential to 3G/UMTS. The patent claim that wasn't adjudicated today will come to judgment in a week from today."
The rulings can be appealed to the Karlsruhe Higher Regional Court and, on to the Federal Court of Justice.
Apple's and Samsung's claims against each other have so far had a high dropout rate. This doesn't seem to deter either party from pursuing claims against the other. There is a lot at stake, and neither side wants to lose potential leverage in any future legal wrangling.