According to the latest survey results from ChangeWave, a massive 98% of new iPad owners are satisfied with Apple's latest device (82% as very satisfied and 16 percent as somewhat satisfied), with absolutely no customers reporting that they were "very unsatisfied' with the device.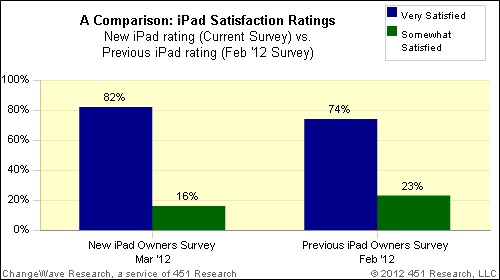 The survey also addressed the "overheating" complaints surfacing regarding the new iPad, with 89 percent of users stating that it wasn't a problem at all (which is also the position that we took on the issue). The biggest boost to the new iPad was the Retina display, followed by battery life and 4G LTE compatibility, while cost was the biggest dislike.
The survey included 200 owners of the new iPad, and was conducted between March 22-28. Although it's a fairly small sample size, it should reflect a general idea of how consumers feel about Apple's latest device, even if the global satisfaction rate is somewhat lower.