An analytics firm says that two-thirds of the apps on Apple's iOS App Store are "zombie apps". That doesn't mean they want to eat your brains, but that they are un-downloaded, unranked, and largely invisible. (Wouldn't that make them "ghost apps"?)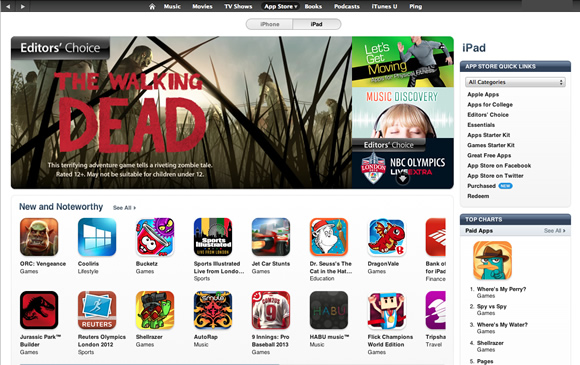 Zombies may provide a perennial source of material for mobile games, but no developer actually wants their app to be the walking dead. Nonetheless, according to new mobile analytics and ad verification firm Adeven, that's what almost two-thirds of the iOS App Store constitutes.

The Berlin company's Apptrace tool launches on Tuesday and as a result it's showing off several stats as a way of strutting its stuff. The most interesting one is the revelation that around 400,000 App Store apps get no downloads, are invisible to users and have no ranking.
"The reality is there are only a couple of thousand apps that really make some kind of downloads," Henschel said. "This is based on Apple's closed system — it's tough to discover those kinds of apps. You don't have proper search, so the only way to discover new apps is through the top listing."
Apple recently announced that downloads on its iOS App Store had reached 30 billion total, while $5 billion had been paid to developers. There are more than 650,000 applications available on the App Store.
Apple has worked to improve the search algorithms on the App Store to improve the discovery of content. Earlier this year, Apple acquired Chomp, a mobile application search engine. It is believed the acquisition is intended to improve app discovery in the App Store.