Apple has filed a patent showing interest in a having the rear clip on an iPod nano double as the way to recharge and sync the device.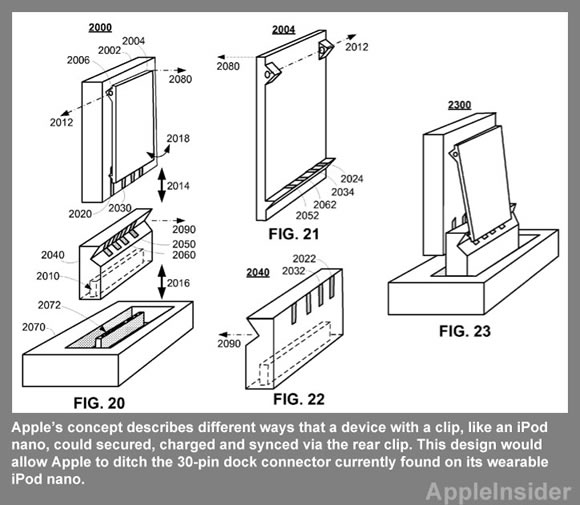 The concept was revealed in a new patent application published this week by the U.S. Patent and Trademark Office and discovered by AppleInsider. Entitled "Portable User Device with a Clip Having Electrical Thermals," it describes different ways that a device with a clip could be used to secure, charge and sync it.
The application includes illustrations showing a device similar in design to the current nano. Currently the clip on the back is used to make the device wearable. But if Apple's new patent application became a reality, the clip would also include charging contacts. Users would clip the iPod nano onto a charging base, and recharge the battery, or transfer data.
In the concept, the clip would be "electrically coupled to the rechargeable battery." In addition, the clip would provide a "clamping force which aids in maintaining contact between the receiving receptacle and the clip member."
The application goes on to describe how the iPod nano could be clipped to another device, such as a MacBook Pro, for charging and syncing.
The proposed invention was first filed in January of 2011. It is credited to Jeffery T. Lee and Scott Krueger.