Wednesday, the U.S. Patent Office granted a patent to Apple for charging peripheral devices. The new patent describes a new type of power port that also transfers data.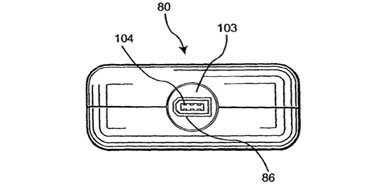 MacWorld.UK, via Macgasm:
According to an image accompanying the patent, it appears superficially more similar to the original Firewire 400 connection, the port is rectangular in shape with a triangular edge to ensure that the connection is made the right way. Although it should be noted that Apple patent images rarely match the actual style of the end design.
The new patent, No. 8222773 describes a power port that also transfers data. It has been rumored recently that Apple will be introducing a new type of port on the iPhone 5.
The patent abstract reads:
A power adapter for a peripheral device such as portable electronics device is disclosed. The power adapter includes a housing that contains electrical components associated with the power adapter. The power adapter also includes a data port provided at a surface of the housing. The data port is configured to provide external power to the peripheral device.
It would be desirable to remove the total number of connections made to a peripheral device so as to reduce the number of connectors and cables needed to operate the peripheral device. By reducing the number of connectors and cables, the peripheral size and the cost of the product may be decreased as well as the ease of use of the peripheral device may be improved (less cables to tote around). 
While Apple files for numerous patents that never see the production line, rumors about the company dropping the traditional 30-pin connector have been flying around for a while now.