Do you have a brand-spanking new Retina Display MacBook Pro, and you're seeing less than half of the battery life that Apple claims? It could be because of a file that Migration Assistant corrupted. That file can be removed with a simple command.
(MacTrast is not responsible for any damage to your OS X installation, or files lost by running the commands below. You have a current backup, right?)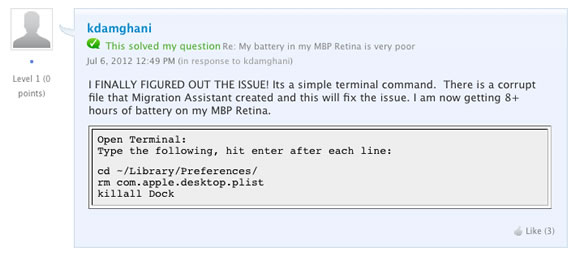 Cult of Mac:
According to a user on Apple's Support Communities forum, your MacBook Pro's battery life could be dramatically reduced by a corrupt file created by Migration Assistant. The only way to improve it is to remove that file.
From the Apple Support Community: "I FINALLY FIGURED OUT THE ISSUE! Its a simple terminal command.  There is a corrupt file that Migration Assistant created and this will fix the issue. I am now getting 8+ hours of battery on my MBP Retina."
So here are the steps:
Open up Terminal on your

Mac

and type " cd ~/Library/Preferences/" (without the quote marks) and hit return.
Now enter "rm com.apple.desktop.plist" and hit enter again.
Finally, enter "killall Dock"
The desktop should refresh, you may possibly see your wallpaper change back to the Lion default backdrop, and the corrupt file will be removed. If this is what was causing your battery problems you should now find that your battery life will increase significantly.
I can't verify this, as I don't have a Retina Display MacBook Pro. (SOB!) So if you try it, be sure to let us know in the comment section below.
Again, MacTrast isn't responsible for anything that happens to your MacBook Pro. If you want to blame someone, blame the original poster in the Apple Support Communities, or Apple, or even the government, but not us.