Amazing Alex , a brand new game from Angry Birds developer Rovio, has been available for well under 24 hours – yet it has already risen to the tippy top of the App Store charts, ranking as the number one paid app overall in both the U.S. and U.K. App Stores (charts pictured below = U.S. App Store on left, U.K. on right)!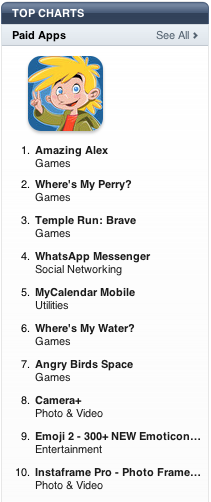 Following Rovio's incredible success with the Angry Birds franchise, it's hardly surprising that people would flock to download their latest creation – even if it isn't another Angry Birds game. Although this early success is a great sign, the real test will be whether or not Amazing Alex is able to keep up this sort of demand over time.
At any rate, congratulations, Rovio – you just might have another smash hit on your hands! If you haven't tried the new game yet, links can be found below.