After weeks of teasing, Angry Birds creator Rovio has unleashed a brand new game on the App Store – but instead of birds, this game is all about cause and effect and chain reactions, as seen through carefully made Rube Goldberg-style contraptions!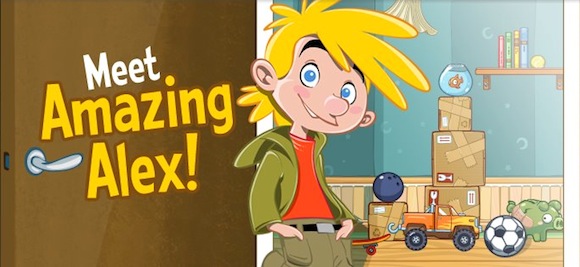 From the developer:
Meet Amazing Alex! With his boundless imagination, this whiz kid turns everything into adventure! From cleaning his room to battling cardboard robots in his backyard, Alex creates amazing chain reactions to get the job done. Now he has some challenges for you! What's the most creative solution YOU can create? With 100 challenging levels, there's a whole world of creations to explore!
Amazing Alex is Rovio's first venture outside of the Angry Birds franchise, and should provide a unique (although still physics-based) gaming experience. The game features 100 levels, as well as the ability to create your own levels using 35 interactive objects.
The game is available now for the iPhone and iPod touch ($0.99, App Store link), as well as in an  HD version for the iPad ($2.99, App Store link). The real question is: Can Rovio strike gold twice? -Grab it now and find out for yourself!
Update: In less than 24 hours, Amazing Alex already rose to the number one rank in the U.S. and U.K. App Stores!